Caramelised pear & walnut salad with camembert croute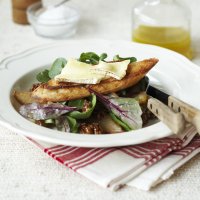 A simple summer salad with a delicious mixture of sweet of savoury flavours
Preparation: 20 mins
Cooking: 10 mins
Serves: 2
What you need:
2 small firm pears
50g walnut halves
20g butter
2 dsp soft brown sugar
Juice of one orange and zest
2 tbsp extra virgin olive oil
1 tsp white wine vinegar
Salt and pepper
80g Coeur de Lion Camembert
2 diagonal slices of a baguette
100g mixed leaves or bistro beetroot salad
What you do:
Preheat grill to a medium heat and toast the bread slices lightly on each side.
Slice each pear in half and then each half into four. Remove the core.
In a heavy based pan melt the butter and add in the pears, walnuts and sugar. Cook until pears are caramelized, but not too soft - this should take about 5-6 mins.
Meanwhile whisk together the orange juice and zest with the olive oil and vinegar. Season to taste.
Slice the Camembert and place on top of the baguette slices, place back under the grill to melt; this should only take about 30 seconds.
Toss the leaves in the dressing.
Plate up with the dressed leaves, pear and walnut on top, finished with the toasted baguette and Camembert.
This page can be found at: http://secretsauce.co.uk/vegetarian/camembert-recipes/caramelised-pear-and-walnut-salad-with-camembert/
A short link can also be used: http://bit.ly/dXaaAv
Coeur de Lion

Delicious range of authentic French cheeses. Cœur de Lion was born from the creation of a camembert so creamy and tasty that its unique recipe was patented. This camembert was so popular with consumers that Cœur de Lion started producing other soft cheeses, including Le Brie, Chaumes, La Buche, Chavroux, Crème de Brie and Pie d'Angloys. Cœur de Lion is part of a family run French cheese company founded by Jean Noel Bongrain in 1956. Now run by the second generation, the company is passionate about only making authentic and delicious French cheese.
More from Coeur de Lion

Bored of traditional cheese on toast? Step it up a gear with delicious brie, packed full of flavour

Mouth-watering home made burgers with an even more mouth-watering topping

A great dish which is simple to make, guaranteed to impress your other half
Popular in camembert recipes

One of the most tempting dishes on a restaurant starter dish, so why haven't you ever tried making it at home?!

Ooh, melted cheese with the perfect dippers and a sweet apple chutney. Yum!