Corned beef hash jackets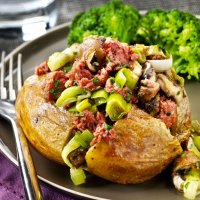 Quick and easy corned beef hash and baked potato
Cooking: 8 mins
Serves: 2
What you need:
2 McCain Ready Baked Jackets
1 tbsp olive oil
1 leek, finely sliced
150g chestnut mushrooms, broken into chunks
150g corned beef, cut into pieces
Handful freshly chopped parsley
Salt & pepper to season
What you do:
Cook two McCain Ready Baked Jackets as per instruction on pack
Heat the oil in a frying pan and gently fry the leeks until softened, then add the mushrooms, corned beef and parsley
When the potatoes are cooked, open slightly and top with the corned beef hash
This page can be found at: http://secretsauce.co.uk/meat-poultry/potato-recipes/corned-beef-hash-jackets/
A short link can also be used: http://bit.ly/R0vPFc
McCain

McCain is Britain's favourite chip maker and takes pride in the quality of all its products. McCain is a family business that works closely with 300 British farmers, some of whom it has worked in partnership with for three generations. The company aims to make good, simple food and at its heart are its people, the community and the environment. For the full range of McCain products with nutritional information please go to http://www.mccain.co.uk
More from McCain

A traditional dish with a British twist. These Ploughman's pies are sure to go down a treat at any party this year!

A delicious curry-filled baked potato with a fruity twist

This Spanish tapas is the perfect dish for entertaining, surprise your friends with this deliciously different meal.
Popular in potato recipes

A delicious curry-filled baked potato with a fruity twist

A mouth-watering mixture that tastes amazing on oven-baked potatoes

This spicy chicken recipe adds a tasty kick to a jacket potato