Baked potato with spicy chicken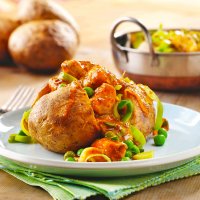 This spicy chicken recipe adds a tasty kick to a jacket potato
Preparation: 10 mins
Cooking: 15 mins
Serves: 1
What you need:
1 Bannisters Farm Ready Baked Potato
1 spray of oil
1/2 leek, finely sliced
2 cm piece of root ginger, grated (or 1 cube of frozen ginger)
1/2 tbsp medium curry paste
50g frozen peas
1 skinless chicken breast, diced
soy sauce to serve
What you do:
Heat a wok and spray with oil. Add the chicken pieces and allow to cook through (about 10 minutes). Remove from the wok and set aside on a plate. Stir-fry the leek and ginger until softened. Stir in the curry paste and cook for a further 2 minutes. Stir in the peas and chicken. Reduce the heat, cover and cook for 3 minutes.
Add the mixture to the potato and serve with a splash of soy sauce.
This page can be found at: http://secretsauce.co.uk/meat-poultry/potato-recipes/baked-potato-with-spicy-chicken/
A short link can also be used: http://bit.ly/PGqkvz
Bannisters' Farm
The Bannisters' Farm range is brought to you by the Bannister family, a Yorkshire farming family whose farming roots go back 100 years. They have been supplying the supermarket freezer aisle with delicious, healthy frozen baked potatoes which can be microwaved in minutes since 2007. They taste exactly as a traditionally baked jacket potato should: tasty, baked skin and a delicious soft, fluffy middle.
More from Bannisters' Farm

This delicious jacket potato topping is fresh, fruity and colourful - perfect for the warmer summer months.
Popular in potato recipes

A delicious curry-filled baked potato with a fruity twist

A mouth-watering mixture that tastes amazing on oven-baked potatoes

Quick and easy corned beef hash and baked potato