Cheesy haddock & spinach bake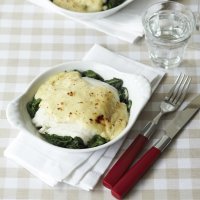 A great dish which is simple to make, guaranteed to impress your other half
Preparation: 25 mins
Cooking: 15 mins
Serves: 2
What you need:
20g butter
20g plain flour
240ml milk
2 tbsp Dijon mustard
Squeeze of lemon
100g spinach
70g Coeur de Lion Pie d'Angloys cheese – chopped into small cubes
400g smoked haddock
Salt and pepper
What you do:
Oven temperatures in 200ºC/400ºF/Gas Mark6
Preheat the oven.
Melt the butter over a medium heat, remove and stir in the flour to form a roux. Place back on the heat and cook for 30 secs stirring with a wooden spoon.
Gradually add the milk a little at a time whisking as you go to prevent any lumps from forming. When you have incorporated all the milk and the sauce has a creamy consistency add in the Dijon mustard, Pie D'Angloys and a squeeze of lemon juice. Season to taste.
Wash the spinach and cook for 1-2mins, squeeze out any excess liquid using a sieve and the back of a spoon.
Divide the spinach between two small crockery-baking dishes, place the fish on top and finish with the sauce.
Bake in the oven for 15 to 20min until golden on top.
This page can be found at: http://secretsauce.co.uk/fish-seafood/haddock-recipes/cheesy-haddock-and-spinach-bake/
A short link can also be used: http://bit.ly/ftRmlA
Coeur de Lion

Delicious range of authentic French cheeses. Cœur de Lion was born from the creation of a camembert so creamy and tasty that its unique recipe was patented. This camembert was so popular with consumers that Cœur de Lion started producing other soft cheeses, including Le Brie, Chaumes, La Buche, Chavroux, Crème de Brie and Pie d'Angloys. Cœur de Lion is part of a family run French cheese company founded by Jean Noel Bongrain in 1956. Now run by the second generation, the company is passionate about only making authentic and delicious French cheese.
More from Coeur de Lion

Bored of traditional cheese on toast? Step it up a gear with delicious brie, packed full of flavour

Mouth-watering home made burgers with an even more mouth-watering topping

A simple summer salad with a delicious mixture of sweet of savoury flavours
Popular in haddock recipes

A filling fishy chowder to keep the winter chills right the other side of the front door where they belong

An all time-favourite dish for brunch or a light lunch. If you prefer to use brown basmati rice you will need to cook it for a little longer and add more Oatly to keep the rice moist.

Haddock, sweetcorn and strong cheese are the three key ingredients in this recipe and they go together perfectly!