Brie on toast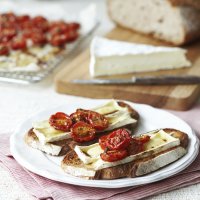 Bored of traditional cheese on toast? Step it up a gear with delicious brie, packed full of flavour
Preparation: 10 mins
Cooking: 60 mins
Serves: 4
What you need:
1 Punnet cherry tomatoes or baby plum tomatoes
Herbs such as thyme, rosemary or oregano
2-3 tbsp Olive oil
Coeur de Lion Brie - sliced
Good quality white bread
Worcestershire Sauce
What you do:
Oven temperatures in 150ºC/300ºF/Gas Mark2
Slice the tomatoes in half and arrange on a baking tray lined with parchment paper.
Chop the herbs and mix into some olive oil to infuse flavour. Brush each tomato with a little of the oil, go sparingly as the flavour will intensify dramatically.
Place in the oven for 1 to 2 hrs depending on the size of your tomatoes, they should appear shriveled and dry but still have a little juice left in them.
Toast your bread lightly on each side, then top with sliced Brie.
Melt the Brie under the grill add a little Worcestershire sauce if desired and serve with the slow roasted tomatoes.
Handy cook's tip:
If you make a batch of the tomatoes they can be covered in extra virgin olive oil, and stored in a sealed jar. They will keep for weeks.
This page can be found at: http://secretsauce.co.uk/vegetarian/brie-recipes/brie-on-toast/
A short link can also be used: http://bit.ly/eGGGXl
Skandi Candle
Pure soy wax candles in Flack Fig & Vetiver or Lemon fragrances - perfect for any dinner party or romantic night in.
Coeur de Lion

Delicious range of authentic French cheeses. Cœur de Lion was born from the creation of a camembert so creamy and tasty that its unique recipe was patented. This camembert was so popular with consumers that Cœur de Lion started producing other soft cheeses, including Le Brie, Chaumes, La Buche, Chavroux, Crème de Brie and Pie d'Angloys. Cœur de Lion is part of a family run French cheese company founded by Jean Noel Bongrain in 1956. Now run by the second generation, the company is passionate about only making authentic and delicious French cheese.
More from Coeur de Lion

A simple summer salad with a delicious mixture of sweet of savoury flavours

Mouth-watering home made burgers with an even more mouth-watering topping

A great dish which is simple to make, guaranteed to impress your other half
Popular in brie recipes
Don't go for your usual ploughman's sandwich for lunch, this brie and mango chutney ciabatta is simple, but delicious!