Phil Vickery's juicy pork patties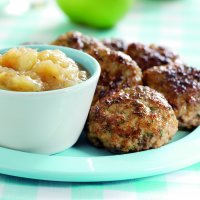 Cheap and very very tasty, serve these juicy pork patties, created by celebrity chef Phil Vickery, with spicy apple sauce
Serves: 4 - 6
Cost approx: £0.80 per portion
Preparation time: 15 minutes
Cooking time: 15 minutes
What you need:
450g lean pork or turkey mince
2 tbsp fresh sage, chopped
1 tsp dried oregano
1 tsp dried thyme
zest of half a lemon
1 egg, beaten
4 tbsp olive oil
½ tsp allspice or cinnamon
100mls cold water
2 large Bramley apples
salt and freshly ground black pepper
What you do:
Mix the pork or turkey mince with the sage, oregano, thyme, lemon zest and season well, then if necessary add a little of the beaten egg to bind together.
Mould the mixture into eight patties, about 7cm diameter.
Cook the patties in a non-stick frying pan with two tbsp of the olive oil, for 8 - 10 minutes, turning occasionally. Be careful not to let the outsides overcook before the middles are cooked right the way through.
Place the other 2 tbsp of oil into a saucepan and heat gently.
Add the spice, water and the chopped apples, and cook for 15 minutes until the apples are soft and pulpy and you have a nice thick stew.
Finally, season with a little salt and pepper.
Serve the patties with the spicy apple stew as a dipping sauce.
Copyright Phil Vickery
This page can be found at: http://secretsauce.co.uk/meat-poultry/pork-recipes/phil-vickerys-juicy-pork-patties/
A short link can also be used: http://bit.ly/eNvSPs
Bramley Apples

The Bramley is rightly recognised by professional chefs and home cooks alike as the best apple for cooking. Grown only in Britain, the Bramley's unique qualities make it one of the most versatile ingredients, equally at home in a savoury stir fry as a traditional apple pie.
More from Bramley Apples

Cheap ingredients, quick to make, but packed full of flavour and perfect with a lovely cup of tea!

The blend of hot spices, sour flavours and lentils make a dhansak a popular curry. Try serving it with basmati rice and a cooling raita.

Mmmmmm apple pies. The smell of them baking, the first cut of the fork into the pastry and the apples oozing out...
Popular in pork recipes

If you love a roast, but want a new recipe, try this pork shoulder with roasted garlic, vegetables and caraway seeds

A great, slightly posher take on apple sauce for a celebration Sunday roast pork dinner.

Forget your usual pork chop recipe, this one will soon take its place at the top of your recipe pile!