Grilled pork chop with buttered mash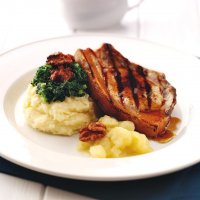 Forget your usual pork chop recipe, this one will soon take its place at the top of your recipe pile!
What you need:
For the chops
4 large pork chops
Olive oil
Seasoning
For the mash
1kg / 2lb 1oz Desiree Potatoes
100ml Double cream
50g Butter
1/2 Bramley apple grated
Seasoning
For wilted spring greens
25g/1oz butter
250g/9oz spring greens or hispi cabbage, finely sliced
Seasoning
Walnuts
100g walnut halves
100ml water
100g castor sugar
For apple and scrumpy sauce
1/2 Bramley apples, peeled, cored and chopped
50g/2oz butter
75ml/3fl oz dry scrumpy cider
2-4 tbsp caster sugar, to taste
What you do:
Place the water and the sugar in a pan together for the walnuts and bring to the boil remove from the heat and allow to cool.
Peel the Desiree potatoes and cut into 2 to 3 inch pieces. Place in a pan and cover with cold water, add a pinch of salt. Bring to the boil, and simmer for 15 minutes or until cooked.
Drain and pass through a potato ricer and add back into the pan, add the grated apple, butter and cream, season to taste and keep warm.
Season the pork chop and drizzle with a little olive oil. Place onto the griddle tray and grill on a medium heat for 8 to 10 minutes on each side.
For the wilted spring greens, heat a lidded frying pan until hot, add the butter and spring greens and fry for 2-3 minutes, then add 50ml/2fl oz water and cover with a lid. Cook for a further 2-3 minutes, until the greens have wilted. Season with salt and freshly ground black pepper.
Drain and deep fry the walnuts in hot oil for 10 to 15 seconds and drain on to kitchen paper.
For the apple and scrumpy sauce, place the apples, butter and cider into a saucepan, cover with a lid and cook for 4-5 minutes, or until the apple pieces begin to break down.
To serve, spoon the mash on to the plates with a pile of the greens next to it and the walnuts sprinkled over the top. Add crispy pork chop and spoon over the beef sauce and the apple scrumpy sauce on the side.
This page can be found at: http://secretsauce.co.uk/meat-poultry/pork-recipes/grilled-pork-chop-with-buttered-mash/
A short link can also be used: http://bit.ly/NZXzcU
Many Faces of Potatoes

Family mealtimes are set to become that little bit easier as Potato Council launches its first free recipe driven app, designed for those seeking quick and tasty meal ideas. The 'Quick & Tasty' app for iPhone and iPod Touch gives users access to hundreds of favourite, as well as new and exciting, potato recipes, which can be ready and on the table in under 30 minutes. Download it for free now - www.itunes.com/appstore.
More from Many Faces of Potatoes

Angi Slater has been awarded the accolade of creating 'Britain's Favourite Potato Recipe' by manyfacesofpotatoes.co.uk and celebrity chef James Martin in a national quest to find Britain's best potato dish.

Warming, filling and very very tasty. Perfect for after an autumnal walk in the park or a trip around the shops!

Love tapas? Why not try making some of the dishes at home? Get started with this easy chorizo and potato tapas dish
Popular in pork recipes

If you love a roast, but want a new recipe, try this pork shoulder with roasted garlic, vegetables and caraway seeds

A great, slightly posher take on apple sauce for a celebration Sunday roast pork dinner.

Cheap and very very tasty, serve these juicy pork patties, created by celebrity chef Phil Vickery, with spicy apple sauce