Savoury baked Pink Lady apples with Sunday roast pork shoulder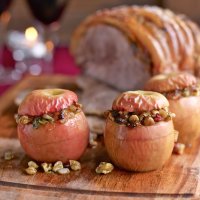 Pink Lady apples, stuffed with herbs and nuts, a savoury version of the more classic sweet baked apples. A great, slightly posher take on apple sauce for a celebration Sunday roast pork dinner.
Preparation: 25 mins
Cooking: 130 mins
Serves: 6
What you need:
For the pork:
Approx. 2kg pork shoulder joint (bone out)
A little olive oil
Salt & freshly ground black pepper
For the baked apples:
1 onion, finely chopped
1 tbsp olive oil
25g butter
2 rashers smoked streaky bacon, finely diced
2 tbsp finely chopped sage leaves
Salt & freshly ground black pepper
40g walnuts, chopped
4 small-medium Pink Lady apples
What you do:
Pre-heat the oven to 220°C. Lay the pork joint in a roasting tin and rub all over with a little olive oil. Season with salt and pepper. Roast in the hot oven for 30 minutes.
Turn the heat down to 160°C and continue to roast for further 1 hour and 40 minutes (for a 2 kg joint). If your joint weighs more or less, simply roast at the hot temperature for 30 minutes, then roast at the lower temperature for 25 minutes per kg. Once cooking time has finished, remove the pork, wrap loosely in tin foil and allow to rest for 20 minutes before carving.
Once the pork is roasting in the oven, start the apples. In a small frying pan, gently sweat the onion with the olive oil, butter, bacon and sage, seasoning well with salt & freshly ground black pepper. Allow to soften over a low heat for around 15 minutes, stirring occasionally until the onion is lightly caramelized.
While the onion is cooking, prepare the apples. Slice the top off each apple, cutting about 1 cm from the top, and score a fine line through the skin all around the middle of each. Using a melon baller, sturdy teaspoon or small knife, carefully scoop and hollow out the core and a little of the surround apple, leaving you with a walnut-sized cavity. Finely chop the excess apple from the core and add to the frying pan, along with the walnuts and fry for a further 5 minutes.
Place the apples in a snug cluster in a small baking dish and spoon the filling into the hollows, packing it down quite firmly. Top each with the cut off apple top, creating a lid. 20 minutes before the pork is due to be done, slide the apples into the oven and bake 40 minutes until soft when pierced with a skewer.
This page can be found at: http://secretsauce.co.uk/meat-poultry/pork-recipes/savoury-baked-apples-with-sunday-roast-pork/
A short link can also be used: http://bit.ly/17sPUuU
Pink Lady apples

Pink Lady apples have a distinctive crisp texture and fizzy flavour – similar to champagne. It takes 200 days of tender care and, once ripe, each apple undergoes a rigorous quality control process to ensure that the high standard is kept – only the best apples can become a Pink Lady apple. Pink Lady apples are perfect culinary apples as they retain their texture and unique flavour and little, if any, additional sugar needs to be added.
More from Pink Lady apples

Flapjacks are great for desserts, snacks and even lunchboxes, so make up a tray and watch them disappear!

This wonderfully decadent dessert is perfect to serve at a large family gathering.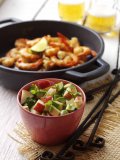 Even when the sun doesn't always shine this tasty, zingy very easy to make Australian recipe will make it seem like it does.
Popular in pork recipes

If you love a roast, but want a new recipe, try this pork shoulder with roasted garlic, vegetables and caraway seeds

Forget your usual pork chop recipe, this one will soon take its place at the top of your recipe pile!

Cheap and very very tasty, serve these juicy pork patties, created by celebrity chef Phil Vickery, with spicy apple sauce