Pork shoulder roast with crackling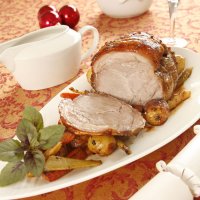 If you love a roast, but want a new recipe, try this pork shoulder with roasted garlic, vegetables and caraway seeds
Serves: 4
What you need:
1kg Pork Shoulder Roast with Crackling
5g Caraway Seeds
2 cloves Garlic
1 tbsp Sunflower Oil
1 tbsp Salt
Pepper
500g mixed vegetables e.g. Onions, Carrots, Celery,
Parsnip (cut into portion size)
500g small Potatoes (skin on, washed)
200ml Water
What you do:
Bring the meat to room temperature. Preheat oven to 220ºC/430ºF/Gas 7. Place caraway seeds and garlic on a chopping board, drizzle with oil and chop together finely. Rub the meat with the garlic mixture, then sprinkle over the salt and season with pepper. Place in a roasting tin in the middle of the oven, and roast for 20 minutes.
Reduce the oven temperature to 180ºC/360ºF/Gas 4. Add the vegetables, potatoes and water and roast for a further 70-80 minutes. Remove the tin from the oven, cover with foil and leave to rest for 10-15 minutes.
While resting preheat the grill to a high temperature. Then place meat under the grill to crisp up the crackling. Carve and arrange on preheated plates along with the roasted vegetables and potatoes.
Serve with fresh leaf salads.
This page can be found at: http://secretsauce.co.uk/meat-poultry/pork-recipes/pork-shoulder-roast-with-crackling/
A short link can also be used: http://bit.ly/hDfdTc
Donald Russell

Donald Russell supplies the finest meat, including grass-fed beef and lamb, 'Freedom Food' pork and salmon, wild Scottish fish, venison and game birds, award-winning free range poultry and other gourmet specialities by mail order across the UK.
More from Donald Russell

This recipe takes a little bit of time, but it's worth it for the deliciously tender meat, kidney and flaky pastry

Beef stew is the best winter warmer, slow cooked for two hours to make sure the beef is tender and has absorbed all the delicious flavours

Shoulder of lamb is a delicious and cheaper way to cook your roast lamb and the rosemary and thyme bring out the flavours beautifully
Popular in pork recipes

A great, slightly posher take on apple sauce for a celebration Sunday roast pork dinner.

Forget your usual pork chop recipe, this one will soon take its place at the top of your recipe pile!

Cheap and very very tasty, serve these juicy pork patties, created by celebrity chef Phil Vickery, with spicy apple sauce