Brie pizza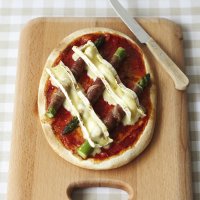 An impressive, yet simple, addition to any pizza that will make you want to eat the whole thing yourself!
Preparation: 40 mins
Cooking: 20 mins
Serves: 2
What you need:
1 x 145g supermarket pizza base mix
4 dsp passata
6 asparagus spears
6 slices of Parma ham
90g Coeur de Lion Brie
A little olive oil for drizzling
What you do:
Oven temperatures in 220ºC/425ºF/Gas Mark 7
Preheat oven, mix pizza dough according to pack and knead for 5 mins.
Place in a bowl, cover and leave in warm place.
Blanch the asparagus in boiling water for 3 mins then plunge into cold water.
Wrap the asparagus spears in Parma ham.
Divide the dough and roll out into two oval shapes, place on a greased baking tray.
Using the back of a spoon spread 2 dessert spoons of passata onto each pizza base, top with 3 spears of asparagus and finish with 45g of sliced brie on each.
Bake in the oven for 15 - 20mins until dough is cooked through and the cheese is melted.
This page can be found at: http://secretsauce.co.uk/meat-poultry/pizza-recipes/brie-pizza/
A short link can also be used: http://bit.ly/eUPZL1
Coeur de Lion

Delicious range of authentic French cheeses. Cœur de Lion was born from the creation of a camembert so creamy and tasty that its unique recipe was patented. This camembert was so popular with consumers that Cœur de Lion started producing other soft cheeses, including Le Brie, Chaumes, La Buche, Chavroux, Crème de Brie and Pie d'Angloys. Cœur de Lion is part of a family run French cheese company founded by Jean Noel Bongrain in 1956. Now run by the second generation, the company is passionate about only making authentic and delicious French cheese.
More from Coeur de Lion

Bored of traditional cheese on toast? Step it up a gear with delicious brie, packed full of flavour

Mouth-watering home made burgers with an even more mouth-watering topping

A great dish which is simple to make, guaranteed to impress your other half
Popular in pizza recipes

This 10-minute recipe grills pittas topped with My DOLMIO Pizza Flavour Sauce, pepperoni and Mozzarella. It's perfect as a home-from-school easy meal

Although not really 'pizzas', these delicious snacks are a worthy substitute and full of wholesome ingredients

Easy to make, these mini pizzas are perfect for kids' parties or for starters when you're having friends over for dinner