Pizza Della Repubblica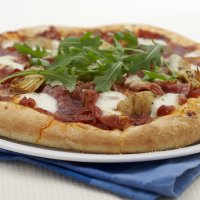 An Italian pizza which uses delicious ingredients from all over the country
What you need:
For the dough:
700g Strong White Bread Flour
1 Sachet Hovis Bread Yeast
400ml Warm Water
1 teaspoon salt
Olive Oil
3 Cloves Garlic
Handful of Polenta Flour (Corn Meal)
For the topping:
1 jar Loyd Grossman tomato & balsamic vinegar sauce
75-80g Proscuitto di Parma slices
75-80g Milano Salami slices
100g artichokes in olive oil
1 large buffalo mozzarella ball, in slices
2 handfuls of rocket leaves
What you do:
For the dough:
Mix together the flour, salt and yeast
Make a well in the centre and add the warm water and two tablespoons of olive oil
Bring it together into a dough and knead well for 5-10 minutes, either on a floured surface or in a mixer
Place in a lightly oiled bowl and cover with cling film
Leave in a warm place for 1-2 hours after which it should have doubled in size
Heat oven to 240C/fan 220C /gas 8
Knock back the dough and fold in the chopped garlic
Split the dough into two and roll each half out into a large, thin circle
Dust two large flat baking trays with polenta (or plain flour if not using) and place on the disks of dough
For the topping:
Put the Loyd Grossman sauce in a saucepan, bring to the boil and gently cook down until it becomes a thick paste and has halved in quantity
Leave to cool down to room temperature
Smooth the sauce over bases with the back of a spoon
Scatter with mozzarella cheese slices, salami and proscuitto di parma
Season with salt and pepper and bake for 8-10 mins until crisp
Remove from oven and place onto serving plates, top with rocket leaves and a little olive oil
This page can be found at: http://secretsauce.co.uk/meat-poultry/pizza-recipes/pizza-della-repubblica/
A short link can also be used: http://bit.ly/fIaXMk
Loyd Grossman

Try Loyd Grossman's deliciously tasty food range, including pour over sauces, soups, pasta and breads, for premium quality and inspired variety.
More from Loyd Grossman

With hardly any preparation required, this pasta dish delivers exactly what it says it will, it's quick and delicious!

This fresh seafood and spicy chorizo paella cooked with a rich tomato and basil sauce makes a perfect one-pot dinner to share alfresco.

A fusion of juicy tomatoes, fresh cream, natural yoghurt with aromatic spices and a hint of honey served with king prawns
Popular in pizza recipes

This 10-minute recipe grills pittas topped with My DOLMIO Pizza Flavour Sauce, pepperoni and Mozzarella. It's perfect as a home-from-school easy meal

An impressive, yet simple, addition to any pizza that will make you want to eat the whole thing yourself!

Although not really 'pizzas', these delicious snacks are a worthy substitute and full of wholesome ingredients