Ten minute pizza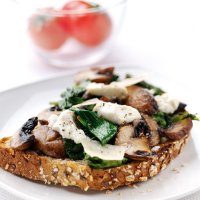 Although not really 'pizzas', these delicious snacks are a worthy substitute and full of wholesome ingredients. Serve with a lightly dressed leafy herb salad.
Serves: 2
Preparation time: 10 minutes
Cooking time: 8-10 minutes
What you need:
2 thick slices wholegrain bread
3 tsp olive oil
2 tbsp sun-dried tomato paste
75g chestnut mushrooms, sliced
75g baby spinach
75g ricotta or mozzarella cheese
¼ tsp dried oregano
25g Parmesan shavings
What you do:
Lightly toast the bread on one side. Turn the slices and drizzle with 1 teaspoon of the olive oil. Spread with the tomato paste. Heat another teaspoon of the oil in a frying pan and fry the mushrooms for 5 minutes until soft and golden. Scatter the spinach on top, cover with a lid and turn off the heat so the spinach starts to wilt.
Lightly season the ricotta or mozzarella. Arrange the spinach over the bread and top with spoonfuls of the ricotta. Scatter with the mushrooms and sprinkle with oregano and a little seasoning. Grill until the ricotta just starts to colour. Serve hot, scattered with parmesan shavings and drizzled with the remaining oil, and ground black pepper if required.
Handy tip:
Use thinly sliced pepperoni or chorizo sausage instead of the mushrooms.
This page can be found at: http://secretsauce.co.uk/meat-poultry/pizza-recipes/ten-minute-pizza/
A short link can also be used: http://bit.ly/dKzXLc
Wholegrain goodness

Wholegrain Goodness
is an independent campaign which aims to raise awareness of the health benefits and versatility of wholegrains.
More from Wholegrain goodness

With wholewheat spaghetti, low-fat cheese and semi-skimmed milk, this recipe is healthy and you can add your own favourite ingredients to it too

Contains three of your five-a-day plus two servings of wholegrain per person. The recipe is low in saturated fat and salt.

Delicious and healthy - yes, the two can go together in this lovely granola dessert topping
Popular in pizza recipes

This 10-minute recipe grills pittas topped with My DOLMIO Pizza Flavour Sauce, pepperoni and Mozzarella. It's perfect as a home-from-school easy meal

An impressive, yet simple, addition to any pizza that will make you want to eat the whole thing yourself!

Easy to make, these mini pizzas are perfect for kids' parties or for starters when you're having friends over for dinner