Lamb & mushroom bake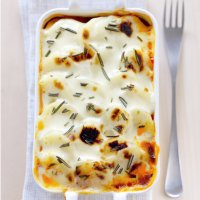 You can't beat a baked dish for feeding the family - and this is one of the best, made easy for you with red and white sauces for lasagne.
Serves: 4
Preparation time: 25 minutes
Cooking time: 1 hour
What you need:
750g potatoes, peeled and halved
Pinch salt
500g minced lamb
1 large onion, chopped
1 garlic clove, crushed
150g closed cup mushrooms, sliced
500g jar DOLMIO red sauce for lasagne
470g jar DOLMIO white sauce for lasagne
2 tsp chopped fresh rosemary
What you do:
Par-boil the potatoes in lightly salted boiling water for 10 minutes. Drain well, then leave to cool.
Meanwhile, heat a large non-stick frying pan or saucepan and add the mince, a handful at a time, cooking until browned. Add the onion, garlic and mushrooms, cook for 2 minutes, then add the jar of DOLMIO red sauce for lasagne. Simmer gently for 10 minutes.
Pre-heat the oven to 190°C / fan oven 170°C / Gas 5.
Tip the mince mixture into a large rectangular baking dish. Slice the potatoes and arrange them in an overlapping layer over the mince, then pour the jar of DOLMIO white sauce for lasagne evenly over the surface. Sprinkle with the rosemary.
Bake for 35-40 minutes until golden brown and bubbling.
Handy cook's tips:
Another time, make this recipe with beef mince instead of lamb. You could add chopped carrots and courgettes to the mince mixture as a change from mushrooms, or use them as well as mushrooms to increase your vegetable intake.
This page can be found at: http://secretsauce.co.uk/meat-poultry/lamb-recipes/lamb-mushroom-bake/
A short link can also be used: http://bit.ly/fHJVqA
Dolmio

Dolmio's products burst with variety and include Taste of Italy sauces, My Dolmio Pasta Range, My Dolmio Sauce Range, lasagne sauces, pasta bakes, stir-in sauces, express pasta, Bolognese and express pasta sauce.
More from Dolmio

A shortlist of 5 quality ingredients is all you need to make this easy, impressive family favourite. Go on - give them a taste of what they really love!

Lasagne is so delicious - everyone enjoys it! Why not try this delicious vegetarian version - packed with healthy fresh vegetables to help you towards your 5-a-day target

If you love seafood, you'll adore this fabulous fish lasagne. Use fresh fish from the counter, or make the most of convenient packs of mixed frozen seafood to make it easy for you
Popular in lamb recipes

A taste of the middle east, perfect for a mid-week supper

Juicy lamb shanks with shallots, mint and harissa sauce create a fantastic Tunisian dish - just serve with couscous

You don't have to go all the way to Morocco to taste its traditional dishes like lamb tagine