Tunisian braised lamb shanks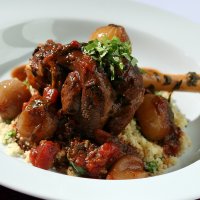 Juicy lamb shanks with shallots, mint and harissa sauce create a fantastic Tunisian dish - just serve with couscous
What you need:
4 lamb shanks
16 shallots, peeled and left whole
2 cloves garlic peeled and crushed
Olive oil for frying
2 tins plum tomatoes
1 tbsp harissa paste (depending on the strength - please look at jar for recommended amount)
1/2 bunch of coriander roughly chopped
Good handful mint roughly chopped
2 tsp cumin seeds
2 tsp paprika
2 tsp allspice
550ml good chicken stock
Sea salt and black pepper
What you do:
In a large ovenproof pan or casserole, heat a little olive oil, season the shanks and seal the meat until brown all over. Remove from the pan, then add the shallots.
Cook until the shallots are browned, 2-3 minutes, then reduce the heat, add the harissa paste, cumin, paprika, all spice and garlic, fry for 30 seconds with the shallots, then add the tomatoes, coriander, mint and chicken stock.
Bring to the boil, add the lamb shanks, then cover the pan or casserole and braise for 2 hours in the oven until the lamb is soft and tender.
Remove the lamb shanks and shallots and keep them warm.
Bring the cooking liquor to the boil and reduce until it has the consistency of a good thick gravy. Adjust the seasoning, then add the lamb and shallots back to the sauce and serve with a pea couscous.
This page can be found at: http://secretsauce.co.uk/meat-poultry/lamb-recipes/tunisian-braised-lamb-shanks-shallots/
A short link can also be used: http://bit.ly/eLPzeb
UK shallots
UK shallots are amongst the finest in the world with a uniquely mild, sweet flavour. Used for centuries as an important ingredient in both western and eastern cooking to add flavour, sweetness and piquancy, shallots turn savoury recipes into something really special.
More from UK shallots

Tender sea bass with a sauce of shallots, cream and herbs - perfect for a dinner party or a romantic dinner for two

Tender beef with the spice of chilli and the sweetness from sweet potato creates an exciting stew-type dish bursting with flavour.

Venison may be slightly unusual for a burger, but it tastes as good, if not better than traditional beef. So try something different tonight with this easy recipe.
Popular in lamb recipes

A taste of the middle east, perfect for a mid-week supper

You can't beat a baked dish for feeding the family - and this is one of the best, made easy for you with red and white sauces for lasagne.

You don't have to go all the way to Morocco to taste its traditional dishes like lamb tagine