Steamed scallops with ginger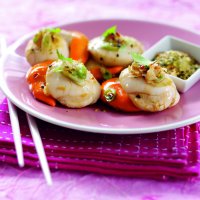 It takes mere minutes to steam these delicious scallops and the spices, ginger and spring onion really bring out their flavour
What you need:
12 scallops with roes attached
3 tbs Shaoxing rice wine
1 tbs light soy sauce
½ tsp sesame oil
1 tsp sugar
Thumb sized piece of fresh ginger, grated
3 spring onions, finely sliced
Handful coriander leaves
Schwartz COOK ART Asian spice sea salt
What you do:
Bring a saucepan of water to the boil, meanwhile combine the wine, soy sauce, sesame oil and sugar in a bowl and mix well.
Place the scallops in the bottom of the steamer. Top each scallop with a tsp of the marinade, a small amount of ginger and spring onion and a pinch of the COOK ART Asian spice sea salt.
Place the steamer over the boiling water, cover and steam for 3 minutes.
Pour over a further tbs of the marinade and garnish each with a coriander leaf.
This page can be found at: http://secretsauce.co.uk/fish-seafood/scallop-recipes/steamed-scallops-ginger-spring-onion/
A short link can also be used: http://bit.ly/hIgbZG
Schwartz

If you really enjoy cooking and have a passion for food, the new Schwartz COOK ART range will help to inspire you and allow you to create food that is noticeably and deliciously different.
More from Schwartz

Even if there isn't any sunshine outside, you can still bring sunshine to your table with this tasty Mediterranean dish

Fancy bangers but run out of potatoes? Grab the pasta from the store cupboard and this tomato and sausage linguine could be the answer to your prayers

A tasty curry devised by nutritionist Azmina Govindji
Popular in scallop recipes

Scallops take some beating for a fresh flavour of the sea and with asparagus and sweet chilli, this recipe's full of aphrodisiac ingredients

Just because the sun hasn't been seen for weeks, doesn't mean you have to give up barbecuing - just make these lovely scallops indoors!

These succulent scallops served in a delicate creamy sauce make a super speedy starter