Mediterranean roasted vegetables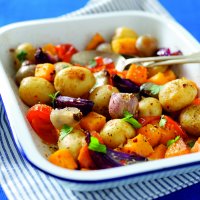 Even if there isn't any sunshine outside, you can still bring sunshine to your table with this tasty Mediterranean dish
What you need:
Extra Virgin olive oil
Small onions/shallots, whole
Baby new potatoes, whole
Butternut squash, cubed
Red onion, wedges
Tomatoes, deseeded, roughly chopped quite large pieces
Fresh coriander, garnish
Olive oil, drizzle
Schwartz COOK ART spiced Mediterranean sea salt to season.
What you do:
Pre-heat the oven to 200°C, 400°F, Gas Mark 6.
Combine ingredients together in a roasting dish, drizzle with olive oil and season with COOK ART Mediterranean sea salt.
Roast in the oven for 30 minutes or until cooked through.
This page can be found at: http://secretsauce.co.uk/vegetarian/mediterranean-recipes/mediterranean-roasted-vegetables/
A short link can also be used: http://bit.ly/foIuSJ
Schwartz

If you really enjoy cooking and have a passion for food, the new Schwartz COOK ART range will help to inspire you and allow you to create food that is noticeably and deliciously different.
More from Schwartz

Fancy bangers but run out of potatoes? Grab the pasta from the store cupboard and this tomato and sausage linguine could be the answer to your prayers

A tasty curry devised by nutritionist Azmina Govindji

You don't have to go all the way to Morocco to taste its traditional dishes like lamb tagine