Griddled scallops with asparagus, crème fraiche & sweet chilli sauce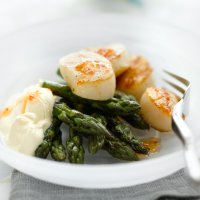 Scallops take some beating for a fresh flavour of the sea and with asparagus and sweet chilli, this recipe's full of aphrodisiac ingredients
Serves: 4
What you need:
200g British asparagus tips
20 fresh scallops
4 tbsp sweet chilli sauce
200g crème fraiche
2 tbsp olive oil
What you do:
Heat a heavy based frying pan with 1 tablespoon of olive oil. Add the asparagus, season with sea salt and black pepper, and sauté for 3 - 4 minutes, until the asparagus is just cooked. Remove from the pan and keep warm
Return the pan to the heat and add the other tablespoon of olive oil, making sure the pan and the oil are very hot but not smoking. Pat the scallops dry with kitchen paper, season with sea salt and add them to the hot pan. Cook for 45 seconds on each side and remove from the pan
Divide the asparagus tips between four serving plates and place the scallops on top. Spoon some crème fraiche to the side, and drizzle each plate with a tablespoon of sweet chilli sauce. Grind over some black pepper and serve
Useful tip:
To make this a more healthy option you could use low fat crème fraiche. Add finely chopped chives to the crème fraiche as an alternative.
This page can be found at: http://secretsauce.co.uk/fish-seafood/scallop-recipes/scallops-asparagus-chilli/
A short link can also be used: http://bit.ly/i2FtWi
British Asparagus
British Asparagus is hailed by leading chefs as the best in the world. It's packed with nutrients, bursting with taste and a truly versatile vegetable. Just don't miss out on its relatively short season of just seven to eight weeks!
More from British Asparagus

This recipe's really quick to make with tender asparagus and nutty Parmesan the stand-out flavours in this dish

Salty parma ham with deliciously sweet asparagus makes a main course full of flavour and filling too

Lasagne can be a bit tricky to make, but it's so worth the effort. And if you're looking for a lasagne that's a bit different, the salmon adds a tasty, unusual flavour
Popular in scallop recipes

It takes mere minutes to steam these scallops and the spices, ginger and spring onion really bring out their flavour

Just because the sun hasn't been seen for weeks, doesn't mean you have to give up barbecuing - just make these lovely scallops indoors!

These succulent scallops served in a delicate creamy sauce make a super speedy starter