Barbecued scallops in bacon & sage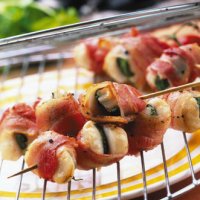 Just because the sun hasn't been seen for weeks, doesn't mean you have to give up barbecuing - just make these lovely scallops indoors!
Serves: 4-5 as a starter
What you need:
10 king scallops, shucked and without the roe
20 fresh basil or sage leaves
10 rashers streaky bacon, halved
150ml (5 fl oz) prepared flavoured oil, e.g. garlic or herb
What you do:
Preheat grill or barbecue
Cut large scallops in half horizontally to make 2 rounds. Place two basil or sage leaves on top of each scallop.
Stretch the bacon with the back of a knife and wrap each bacon strip around one scallop, then wrap a second (if used) across the first, to enclose the scallop.
Thread each scallop onto 2 pre-soaked wooden skewers, brush with the garlic or herb flavoured oil and place onto a prepared foil-lined barbecue or grill, or griddle pan placed directly onto the barbecue.
Cook for 1-2 minutes, turning once and serve immediately.
This page can be found at: http://secretsauce.co.uk/fish-seafood/scallop-recipes/barbecued-scallops-wrapped-bacon-sage/
A short link can also be used: http://bit.ly/gnaCkb
Seafish
From sea to plate, Seafish delivers expert knowledge, skills and support which help the UK seafood industry secure a sustainable and profitable future. To request a free 'Fish for Thought' guide with tips on buying, storing and cooking fish for the family, email info@efamol.com
More from Seafish

If you're having a barbecue and are looking for something new and exciting to cook, this herring dish is well worth a try

Prawn or lobster, a bisque is always a delicious treat. Creamy, fishy, and warming, just make sure you've got some fresh crusty bread ready to serve

Feed the family healthy fish South American style with this great mackerel dish
Popular in scallop recipes

Scallops take some beating for a fresh flavour of the sea and with asparagus and sweet chilli, this recipe's full of aphrodisiac ingredients

It takes mere minutes to steam these scallops and the spices, ginger and spring onion really bring out their flavour

These succulent scallops served in a delicate creamy sauce make a super speedy starter