Scallops in aromatic masala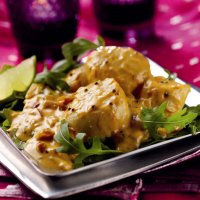 These succulent scallops served in a delicate creamy sauce make a super speedy starter
Indian name: Anmol Ratan
What you need:
8 – 12 large scallops, cleaned
2 tbsp vegetable oil
1 tsp mustard seeds
2cm (¾ inch) piece of root ginger, peeled and chopped
1 small clove garlic, finely chopped
½ green chilli, finely sliced (optional)
1 red onion, chopped
1 ½ tbsp Patak's Korma Paste
1 tbsp tomato paste
200ml (7floz) coconut cream
Juice of half a lime
Salt and black pepper, to taste
Rocket leaves, for garnish
What you do:
In a large frying pan heat the oil and add the mustard seeds. Once they begin to sizzle add the ginger, garlic and green chilli.
After one minute add the onion and fry for three - four minutes. Add the Patak's Korma Paste. Allow to cook for two minutes and then add the tomato paste before stirring in the coconut cream.
After half a minute add the scallops and cook for two minutes before turning over and cooking for a further two minutes. Baste the scallops with the sauce whilst cooking.
Stir in the lime juice and season to taste. Serve two – three scallops per person on a bed of rocket leaves.
This page can be found at: http://secretsauce.co.uk/fish-seafood/scallop-recipes/scallops-in-aromatic-masala/
A short link can also be used: http://bit.ly/hAE9Jy
Patak's

Patak's - Be inspired by over 150 Indian recipes to help you create authentic, delicious meals at home.
More from Patak's

An Indian meal wouldn't be complete without the traditional onion bhajis and they take just 25 minutes to prepare and cook

This recipe is a wonderful starter or snack and taste great with homemade dips. It can easily be made for vegetarians by substituting the lamb with mashed potatoes.

Share these colourful, tasty dips and salsas with friends - perfect for eating al fresco
Popular in scallop recipes

Scallops take some beating for a fresh flavour of the sea and with asparagus and sweet chilli, this recipe's full of aphrodisiac ingredients

It takes mere minutes to steam these scallops and the spices, ginger and spring onion really bring out their flavour

Just because the sun hasn't been seen for weeks, doesn't mean you have to give up barbecuing - just make these lovely scallops indoors!