Asparagus risotto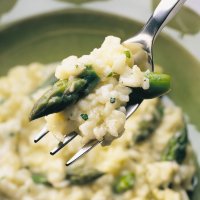 This recipe's really quick to make with tender asparagus and nutty Parmesan the stand-out flavours in this dish
Serves 4 as a main course
What you need:
500g British asparagus
1 finely chopped onion
300g Arborio rice
750ml hot chicken or vegetable stock
75g butter
50g freshly grated Parmesan cheese
Black Pepper
What you do:
Gently fry the onion in the butter until it becomes translucent
Add the rice and cook for a couple of minutes on a medium heat, stirring so that it gets a good coating of butter
Add a ladle of hot stock at a time and continue stirring until all the stock has been used
Meanwhile, steam the asparagus for 3-6 minutes or until tender to the point of a knife. Chop roughly once it is cooked
Add a knob of butter, the asparagus, half the parmesan and a good grinding of black pepper to the risotto and give it a stir
Serve your risotto in warm bowls with a sprinkling of Parmesan on top of each serving
This page can be found at: http://secretsauce.co.uk/pasta-rice/risotto-recipes/asparagus-risotto/
A short link can also be used: http://bit.ly/hrFFbe
British Asparagus
British Asparagus is hailed by leading chefs as the best in the world. It's packed with nutrients, bursting with taste and a truly versatile vegetable. Just don't miss out on its relatively short season of just seven to eight weeks!
More from British Asparagus

Salty parma ham with deliciously sweet asparagus makes a main course full of flavour and filling too

Scallops take some beating for a fresh flavour of the sea and with asparagus and sweet chilli, this recipe's full of aphrodisiac ingredients

Lasagne can be a bit tricky to make, but it's so worth the effort. And if you're looking for a lasagne that's a bit different, the salmon adds a tasty, unusual flavour
Popular in risotto recipes

A lovely, filling meal that takes only 5 minutes to prepare and there are some great tips at the end of this recipe to help you save money!

Got home late, hungry and need a quick and easy meal for two? This mushroom, rocket and pea risotto is ready in a flash and will you leave you content!

Red wine and blue cheese in a risotto? The perfect, easy adult dinner