Penne with asparagus & parma ham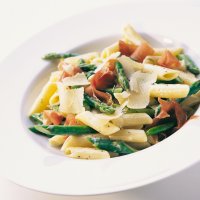 Salty parma ham with deliciously sweet asparagus makes a main course full of flavour and filling too
Serves 4 as a main course
What you need
16 spears British asparagus
400g penne
A knob of butter
8 slices Parma ham roughly cut into strips
3 tbs crème fraiche
Black Pepper
Grated Parmesan cheese
What you do
Cook your penne according to the instructions on the packet
Meanwhile, steam the asparagus, cut each spear into three and toss in a little butter
When the pasta is cooked, drain it and return to the pan
Add the asparagus, parma ham, crème fraiche and black pepper to the pan and toss well
Serve in warm bowls with a sprinkling of Parmesan on top of each serving
This page can be found at: http://secretsauce.co.uk/pasta-rice/penne-recipes/asparagus-parma-ham-penne/
A short link can also be used: http://bit.ly/ia0Ld8
British Asparagus
British Asparagus is hailed by leading chefs as the best in the world. It's packed with nutrients, bursting with taste and a truly versatile vegetable. Just don't miss out on its relatively short season of just seven to eight weeks!
More from British Asparagus

This recipe's really quick to make with tender asparagus and nutty Parmesan the stand-out flavours in this dish

Scallops take some beating for a fresh flavour of the sea and with asparagus and sweet chilli, this recipe's full of aphrodisiac ingredients

Lasagne can be a bit tricky to make, but it's so worth the effort. And if you're looking for a lasagne that's a bit different, the salmon adds a tasty, unusual flavour
Popular in penne recipes

With hardly any preparation required, this pasta dish delivers exactly what it says it will, it's quick and delicious!

This cheesy meatball and pasta bake makes a great midweek meal, perfect for all the family. The natural, mild taste of Dutch Edam means this pasta dish is a winner with the kids. Just serve with a crisp green salad.

Pasta bakes are a great mid-week dinner because they're delicious, easy to cook and need hardly any preparation!