Creamy salmon & spinach tagliatelle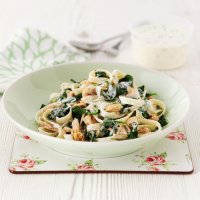 Make lower calorie creamy sauces to go with pasta by replacing double cream with a creamy dip. A tablespoon of double cream contains 67 calories and 7.2g fat. In contrast, a tablespoon of sour cream and chive dip contains 45 calories and 4.3g fat, and a tablespoon of onion and garlic dip has 55 calories and 5.6g fat. The reduced-fat varieties contain even less.
Preparation: 10 mins
Cooking: 10 mins
Serves: 4
What you need:
225g/8oz tagliatelle
1 (100g) bag spinach leaves, washed
2 (180g) cans skinless and boneless pink salmon, flaked
½ x 200g tub reduced-fat sour cream and chive dip
Freshly ground black pepper
What you do:
Cook the tagliatelle in a large pan of boiling salted water for 10-12mins or until just tender. Meanwhile, drain the salmon well, then pick over discarding any skin or bones. Flake the salmon.
Place the spinach in a colander. When the tagliatelle is cooked, pour it into the colander over the top of the spinach to drain – the boiling water will wilt the spinach without overcooking it.
Return the pasta and spinach to the pan. Stir in the sour cream and chive dip and pink salmon. Heat through for a few minutes until the salmon is hot. Serve immediately and season to flavour.
This page can be found at: http://secretsauce.co.uk/fish-seafood/salmon-recipes/creamy-salmon-and-spinach-tagliatelle/
A short link can also be used: http://bit.ly/gJ3QaV
Love Dips

Everyone loves fresh dips... They're a great way to start an evening and also popular as a quick and easy Sunday teatime family snack. But there's so much more you can do with dips than just dipping You can spread them into sandwiches as a tastier alternative to butter or mayonnaise, dollop them onto jacket potatoes, stir into mashed potato or serve on the side with grilled fish or chicken - a great way to use up any left overs.
More from Love Dips

For a speedy pizza, simply replace a homemade tomato sauce on the base of your pizza for fresh salsa

Use dips when you're entertaining to create simple, yet impressive starters

Use dips as an alternative to mayonnaise, soured cream or oily dressings to liven up a salad!
Popular in salmon recipes

Lemon perfectly complements salmon so you might just have found your perfect tart recipe!

A fantastic flavour pairing by top London chef Theodore Kyriakou who says: 'I like eating the salmon pink in the middle with some rice pilaf.'

You need just three main ingredients for this easy family dish - salmon, pastry and onions