Tricolour couscous salad with guacamole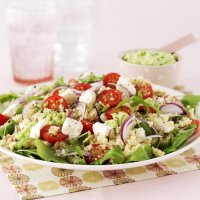 Use dips as an alternative to mayonnaise, soured cream or oily dressings in salads. Try some of the following ideas: Potato salad: mix boiled new potatoes in their skins with sliced spring onions and sour cream and chive dip, Coleslaw: mix shredded carrot, cabbage and onion with garlic and onion dip, Mixed salad: simply top with a dollop of onion and garlic dip, Rice salad: mix cooked brown rice with kidney beans, sliced spring onions and halved cherry tomatoes with guacamole, Pasta salad: Mix cooked wholewheat pasta with tuna, sweetcorn and salsa, Greek salad: mix chopped green peppers, tomatoes, red onion, feta cheese and olives with tzatziki, Caesar-style salad: mix cos lettuce with grilled chicken, croutons and cheese and chive dip.
Preparation: 15 mins
Serves: 4
What you need:
200g/7oz couscous
240ml/8floz vegetable stock
75ml/5tbsp guacamole
freshly ground black pepper
1 medium red onion, finely sliced
150g/5oz cherry tomatoes, halved
150g/5oz mozzarella cheese, cut into small cubes
1 (50g) bag of rocket leaves
What you do:
Place the couscous in a bowl and add the vegetable stock. Stir well, cover with an upturned plate and leave to stand for 5 mins or until all the liquid has been absorbed. Fluff up the couscous using a fork and leave to cool.
Mix the couscous with the guacamole and season with black pepper. Add the onion, tomatoes and mozzarella mix well.
Line a bowl with half the rocket leaves, then gently toss the remaining rocket into the couscous. Heap into the serving bowl and serve with a little more guacamole if liked.
This page can be found at: http://secretsauce.co.uk/vegetarian/couscous-recipes/tricolour-couscous-salad-with-guacamole/
A short link can also be used: http://bit.ly/hCP5tR
Love Dips

Everyone loves fresh dips... They're a great way to start an evening and also popular as a quick and easy Sunday teatime family snack. But there's so much more you can do with dips than just dipping You can spread them into sandwiches as a tastier alternative to butter or mayonnaise, dollop them onto jacket potatoes, stir into mashed potato or serve on the side with grilled fish or chicken - a great way to use up any left overs.
More from Love Dips

For a speedy pizza, simply replace a homemade tomato sauce on the base of your pizza for fresh salsa

Use dips when you're entertaining to create simple, yet impressive starters

Make lower calorie creamy sauces to go with pasta by replacing double cream with a creamy dip
Popular in couscous recipes

Tangy feta and lemon with sweet chantenay carrots, fresh mint, spicy chilli and couscous - this salad's anything but boring

If you're struggling to get five portions of vegetables into your kids a day, this recipe has two in it and is ready in just 15 minutes!

A crunchy fresh couscous salad made from Pink Lady apples and infused with smoky spicy aromas from Morocco. The perfect lunchbox treat!