Salmon & rocket tarts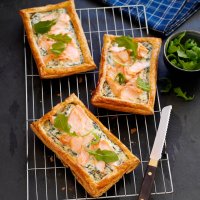 Salmon and lemon are a match made in heaven so by adding some Heinz salad cream lemon & black pepper to these tarts, it complements the flavour of the salmon.
Preparation: 15 mins
Cooking: 25 mins
Serves: 4
What you need:
375g pack of ready rolled puff pastry
1 medium egg, beaten
100g wild rocket
200ml half fat creme fraiche
4 tbsp Heinz salad cream lemon & black pepper
2 tsp cornflour
200g poached skinless salmon
What you do:
Preheat the oven to 200C, fan 180C, gas 6.
Unroll the puff pastry and trim the edges with a sharp knife. Cut the pastry into 4 equal rectangles, brush each with a little egg and then score a 1cm border around each rectangle using the tip of a sharp knife, being careful not to cut all the way through.
Place on a baking sheet and bake in the preheated oven for 15 minutes until golden.
Meanwhile wilt all the rocket apart from a handful, with a couple of tablespoons of water in a pan, allow to cool, then using your hands squeeze out the excess water and roughly chop.
Place in a bowl and stir in the creme fraiche, Heinz salad cream lemon & black pepper and cornflour.
Remove the pastries from the oven and using a knife remove the inner part of each rectangle and set aside to use as lids, if desired.
Divide the cream mixture between the 4 rectangles and scatter over the salmon between them.
Bake in the oven for a further 10 minutes, covering with foil if they brown too much.
Allow to rest for 5 minutes before serving topped with the remainder of the rocket leaves and pastry lids, if desired.
Cook's tip:
Smoked mackerel is a great alternative to poached salmon for this dish.
This page can be found at: http://secretsauce.co.uk/fish-seafood/salmon-recipes/salmon-and-rocket-tarts/
A short link can also be used: http://bit.ly/i35Qss
Heinz Salad Cream

Heinz Salad Cream has been wowing the nation for over 80 years. There really is nothing else to compare with its tangy taste - and of course, it complements far more than salads, go to our inspiration page for more recipe ideas.
More from Heinz Salad Cream

Easy to prepare, these chicken dippers are perfect handed round at parties!

You'll love this recipe! The creaminess of the coleslaw goes perfectly with the salty gammon and sweet pineapple.

Forget the Eighties classic in a cocktail glass, this version is right up to date and includes smoked salmon!
Popular in salmon recipes

A fantastic flavour pairing by top London chef Theodore Kyriakou who says: 'I like eating the salmon pink in the middle with some rice pilaf.'

You need just three main ingredients for this easy family dish - salmon, pastry and onions

Smoked salmon with cream, broccoli and spring onions - this tart is great for family meals, or let it cool and have it for lunch the next day!