Vegetable & goat's cheese pizza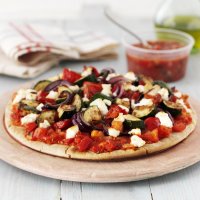 For a speedy pizza, simply replace a homemade tomato sauce on the base of your pizza for fresh salsa
Preparation: 10 mins
Cooking: 25 mins
Serves: 4
What you need:
15ml/1tbsp olive oil
1 red onion, sliced
1 courgette, cut into chunks
1 red pepper, cut into chunks
5ml/1tsp dried rosemary or oregano
2 x 25cm thin-crust pizza bases
1 (200g) tub fresh salsa
1 (100g) pack fresh goat's cheese
freshly ground black pepper
What you do:
Preheat the oven to 200C/gas mark 6.
Heat the oil in a large non-stick frying pan, add the onion, pepper and courgettes and sauté over a medium heat for 4-5mins. Add the herbs and season with black pepper. Cook for a further 2 mins or until lightly browned and tender. Remove from the heat.
Place the pizza bases on a baking tray and spread half the fresh salsa over each base. Scatter the vegetables over the pizza then crumble over the goats cheese. Season with black pepper and bake for 10-12 mins, until the base is cooked through.
This page can be found at: http://secretsauce.co.uk/vegetarian/pizza-recipes/vegetable-and-goats-cheese-pizza/
A short link can also be used: http://bit.ly/i8K16K
Love Dips

Everyone loves fresh dips... They're a great way to start an evening and also popular as a quick and easy Sunday teatime family snack. But there's so much more you can do with dips than just dipping You can spread them into sandwiches as a tastier alternative to butter or mayonnaise, dollop them onto jacket potatoes, stir into mashed potato or serve on the side with grilled fish or chicken - a great way to use up any left overs.
More from Love Dips

Use dips when you're entertaining to create simple, yet impressive starters

Make lower calorie creamy sauces to go with pasta by replacing double cream with a creamy dip

Use dips as an alternative to mayonnaise, soured cream or oily dressings to liven up a salad!
Popular in pizza recipes

Contains three of your five-a-day plus two servings of wholegrain per person. The recipe is low in saturated fat and salt.

Former Olympic swimming champ and mother of three, Sharron Davies, has devised some delicious cost-cutting family recipes with any leftover pots of fresh dips.

If you love a pizza, but are trying to stick to a healthy diet, this French bread pizza is the dinner for you!