Greek pork kebabs (Souvlaki)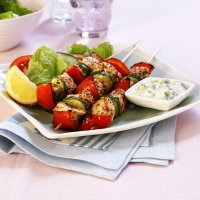 Use dips when you're entertaining to create simple, yet impressive starters
Preparation: 15 mins
Cooking: 20 mins
Serves: 4
What you need:
500g lean pork loin, cut into cubes
2tbsp olive oil
Juice of 1 lemon
1tbsp dried oregano
Salt and freshly ground black pepper
1 red pepper, deseeded and cut into chunks
1 large courgette, thickly sliced
200g tub tzatziki
Salad, to serve
You will need: bamboo skewers
What you do:
Place the pork in a non-metallic bowl. Add the oil, lemon juice, oregano and seasoning. Mix well, cover and leave to marinate for at least 20 minutes.
Whilst the pork is marinating, soak the bamboo skewers in water.
Thread the cubes of pork onto the skewers with the peppers and courgettes. Brush any remaining marinade over the vegetables.
Cook the kebabs under a hot grill for 15-20 minutes, turning occasionally until they are evenly browned and the pork is cooked through.
Serve the kebabs with the tzatziki and salad.
Handy cook's tip:
Use dips when you're entertaining to create simple, yet impressive, starters. Simply spoon a selection of dips into individual pots and arrange on a plate with crudités like pepper, carrots, celery and cucumber, and serve with crusty bread. Or make bowls of thick vegetable or tomato soup look and taste special by topping them with a dollop of sour cream and chive dip. Finally, for an impressive canapé or starter, simply toast thick slices of baguette and allow to cool. Then top each with a spoonful of salsa dip, a small piece of mozzarella cheese, decorate with a coriander leave and serve within 10 mins of topping.
This page can be found at: http://secretsauce.co.uk/meat-poultry/kebab-recipes/greek-pork-kebabs-souvlaki/
A short link can also be used: http://bit.ly/dWQDnZ
Love Dips

Everyone loves fresh dips... They're a great way to start an evening and also popular as a quick and easy Sunday teatime family snack. But there's so much more you can do with dips than just dipping You can spread them into sandwiches as a tastier alternative to butter or mayonnaise, dollop them onto jacket potatoes, stir into mashed potato or serve on the side with grilled fish or chicken - a great way to use up any left overs.
More from Love Dips

For a speedy pizza, simply replace a homemade tomato sauce on the base of your pizza for fresh salsa

Make lower calorie creamy sauces to go with pasta by replacing double cream with a creamy dip

Use dips as an alternative to mayonnaise, soured cream or oily dressings to liven up a salad!
Popular in kebab recipes

The sun's shining so it's time to get the barbie out! Try this delicious kebab recipe and you won't want to let your guests in!

Great for a barbecue, or under the grill in cold weather, these kebabs are colourful and will get you well you on your way to 5 a day

For a delicious barbecue recipe, marinate the chicken, then thread onto kebab sticks with peppers, courgettes and red onion