Perfect poppy seeds pancakes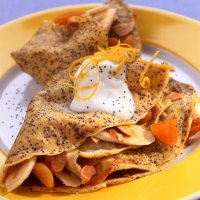 Flip out on Pancake Day and go bananas with the poppy seeds. Our perfect pancakes will make you feel so fruity you'll definitely want them more than once a year!
What you need:
For the pancakes:
50g/2oz plain white flour
50g/2oz gram flour, sifted
15g/1/2oz poppy seeds
300ml/1/2 pint soya milk
pinch of salt
5ml/1tsp sunflower oil
150ml/5floz natural soya yoghurt
For the filling:
2 ripe bananas, chopped
juice of 1 lemon
50g/2oz ready-to-eat dried apricots, chopped
50g/2oz toasted almonds, chopped
5ml/1tsp groundnut oil
To decorate:
1tsp poppy seeds (optional)
thin slivers of lemon zest
What you do:
To make the pancakes blend the flours, poppy seeds, soya milk and salt in a blender or food processor.
Leave to stand for 20 minutes.
Meanwhile, make the filling by mixing the bananas, lemon juice, apricots and almonds together.
Heat a little oil in a non-stick pancake pan.
Use a 50ml/2oz ladle to measure the batter for each pancake.
Pour the batter for one pancake into the pan, swirling it around to cover the base evenly.
Cook until set and golden brown underneath, then flip the pancake over and cook the other side.
Make 8 pancakes and layer to keep warm.
Fill each pancake with a couple of spoonfuls of the filling and fold into quarters.
Arrange 2 on each serving plate with a spoonful of soya yoghurt.
Sprinkle poppy seeds (if using) and lemon zest on the yoghurt to decorate and serve.
Recipe created by the Cordon Vert cookery school
This page can be found at: http://secretsauce.co.uk/cakes-desserts/pancake-recipes/perfect-poppy-seeds-pancakes/
A short link can also be used: http://bit.ly/gRsute
Vegetarian Society

The Vegetarian Society is a registered charity committed to promoting the health, environmental and welfare benefits of a vegetarian diet.
More from Vegetarian Society

These Halloween snails look deliciously slimy. Who's going to be brave enough to take the first bite?

A fantastic ale and mushroom pie recipe perfect to warm you up when it's chilly outside and you want something tasty and filling

Need some get up and go in the morning? This smoothie is just what you need. Ready, steady...
Popular in pancake recipes

Indulgent, chocolatey pancakes, perfect served with a big scoop of dairy ice cream

What could be more fun on Pancake Day than setting fire to your dessert?

Delicious Scotch pancakes with caramelised oranges and a dollop of low-fat whisky crème fraiche