Guilt-free Scotch pancakes with glazed oranges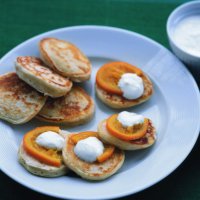 Delicious Scotch pancakes with caramelised oranges and a dollop of low-fat whisky crème fraiche
Preparation: 5 mins
Cooking: 10 mins
Serves: 4
What you need:
For 8 Scotch Pancakes
4oz (110g) self raising flour
pinch of salt
1 tbsp Silver Spoon Half Spoon sugar
¼ pt (150ml) skimmed milk
For the glazed oranges
2 small thin-skinned oranges
1 tbs Silver Spoon Half Spoon sugar
water
To serve:
What you do:
Sift the flour, Half Spoon sugar and salt into a mixing bowl
Gradually mix in the milk to form a thick batter
Lightly spray a non-stick pan with a little oil
Pre heat the pan until hot and drop four, well spaced tablespoons of mixture into the pan
Cook over a moderate heat until bubbles show on the surface
Carefully turn over and cook on the other side for a further 2 minutes
Repeat until all the mixture is used
Keep pancakes warm in a clean, folded tea towel
Slice the oranges (no wider than 5mm slices) and place in a saucepan with the Silver Spoon Half spoon sugar and sufficient water to cover
Simmer gently until the oranges are soft and the liquid has reduced
Divide the pancakes between four plates, put one or two slices of caramelised orange on each, add a dollop of crème fraiche and pour over the orange juices
Handy cook's tip:
Stir a wee dram of whicky in to the Crème fraiche for added indulgence...
This page can be found at: http://secretsauce.co.uk/cakes-desserts/pancake-recipes/guilt-free-scotch-pancakes-with-glazed-oranges/
A short link can also be used: http://bit.ly/ekyQrk
Half Spoon Granulated Sugar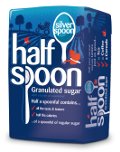 Real sugar, with all its taste and texture, is combined with a tiny amount of sweeteners to make
Silver Spoon Half Spoon
twice as sweet.
More from Half Spoon Granulated Sugar

An indulgent yet guilt-free dessert

A delicious fruit compote, served with a cool dollop of yoghurt
Popular in pancake recipes

What could be more fun on Pancake Day than setting fire to your dessert?

Indulgent, chocolatey pancakes, perfect served with a big scoop of dairy ice cream

These fluffy pancakes are perfect for a leisurely breakfast or tasty afternoon treat.