Crepe Suzette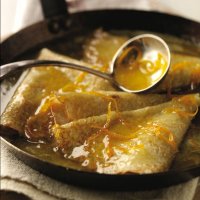 What could be more fun on Pancake Day than setting fire to your dessert?

Preparation: 5 mins
Cooking: 25 mins
Serves: 4

What you need:

100g plain flour
pinch of salt
2 large British Lion eggs
200ml milk mixed with 4 tbsp water
2 tbsp butter, melted
1 tbsp caster sugar
zest and juice from 1 orange

Sauce ingredients

100g unsalted butter
75g caster sugar
zest and juice of 2 oranges
4tbsp Grand Marnier

What you do:
Sift the flour and salt into a large mixing bowl. Make a well in the middle of the flour and add eggs with half the milk and water. Whisk until the mixture is lump free. Add the remaining milk and whisk again until smooth. Add the melted butter, caster sugar and orange zest and 1 tbsp orange juice.
Pour the batter into a jug.
Heat a 20cm diameter non-stick frying pan until hot, drizzle a little oil over the centre and wipe it around with a piece of kitchen paper. Pour a little of the batter into the pan and immediately tilt the pan to spread the batter thinly and evenly over the base. Cook for 2 minutes or until the top is set and the base golden. Turn the crepe over either by flipping it or with a spatula.
Cook for a further 1-2 minutes or until the base is golden. Transfer to a plate and interleave with greaseproof paper, keep warm. Use the batter and a little more oil to make 7 more crepes.
For the sauce: gently heat the butter and sugar in a frying pan, stirring occasionally, until the sugar begins to dissolve; turn up the heat and bubble for about 4 minutes or until the mixture just starts to go brown and caramelise. Add the orange juice and zest letting the mixture bubble for 3-4 minutes to thicken slightly. Add the Grand Marnier, heat for a few seconds and lower the heat.
Fold the crepes into quarters, and add to the sauce making sure the sauce covers the crepes.
Cook's tip:
The batter could be made by placing all the ingredients together in a food processor and blend until smooth.
This page can be found at: http://secretsauce.co.uk/cakes-desserts/pancake-recipes/crepe-suzette/
A short link can also be used: http://bit.ly/xdJ7Pp
Skandi Candle
Pure soy wax candles in Flack Fig & Vetiver or Lemon fragrances - perfect for any dinner party or romantic night in.
British Lion eggs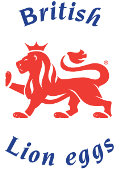 Look for the Lion on eggs to guarantee the highest standards of food safety. All Lion Quality eggs come from British hens vaccinated against salmonella and are date-stamped for freshness.
More from British Lion eggs

Daniel Costello's Spanish baked eggs recipe was chosen by celebrity chef Paul Merrett as a winning recipe in British Lion eggs' Eggs Factor competition

Celebrity chef Marcus Wareing's fantastic recipe for baked egg custard tart serves 8, but be prepared for it to only serve 4 because everyone will want a double helping!

A fantastic recipe for brunch - it looks decadent and you'll soon be wanting it every day!
Popular in pancake recipes

Indulgent, chocolatey pancakes, perfect served with a big scoop of dairy ice cream

Delicious Scotch pancakes with caramelised oranges and a dollop of low-fat whisky crème fraiche

These fluffy pancakes are perfect for a leisurely breakfast or tasty afternoon treat.