Crispy chocolate pancakes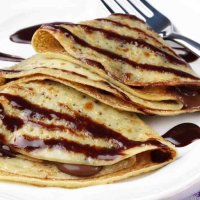 Indulgent, chocolatey pancakes, perfect served with a big scoop of dairy ice cream
What you need:
1 packet of Aunt Bessie's Frozen Traditional Pancakes
11 tbsp of chocolate spread such as Nutella
25g/1oz melted butter
2tbsp golden caster sugar
90ml/3 fl oz double cream
50g/2oz hazelnuts, toasted and chopped (optional)
What you do:
Heat the pancakes as directed on the packet.
Spread each with a tablespoon of the chocolate spread.
Fold each pancake in half then in half again to create a triangle shape.
Arrange in a buttered baking dish.
Brush pancakes with the butter and scatter over the sugar.
Place under a hot grill and cook for 3-4 minutes until the edges of the pancakes are crispy.
Serve with the sauce and hazelnuts scattered over, if wished.
Heat the remaining chocolate spread with the cream in a small saucepan, stir until smooth, lower the heat and simmer until slightly thickened.
This page can be found at: http://secretsauce.co.uk/cakes-desserts/pancake-recipes/crispy-chocolate-pancakes/
A short link can also be used: http://bit.ly/hKEZbm
Aunt Bessie's

Aunt Bessie's is probably most famous for its delicious Yorkshire puddings but is always looking at new ways of making meal times even better. It has now created a whole range of delicious dishes that taste as good as homemade.
More from Aunt Bessie's

Yorkshire pudding filled with winter warming cottage pie

Delicious roast beef canapes, perfect for the buffet table

Delicious brie and cranberry canapes, perfect for entertaining
Popular in pancake recipes

What could be more fun on Pancake Day than setting fire to your dessert?

Delicious Scotch pancakes with caramelised oranges and a dollop of low-fat whisky crème fraiche

These fluffy pancakes are perfect for a leisurely breakfast or tasty afternoon treat.