Spiced apple & cranberry midnight muffins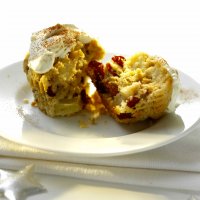 With Christmas fast approaching what better way to prepare a quick and easy dinner than using the UK's number one cream cheese, Philadelphia.
Preparation: 15 mins
Cooking: 25 mins
Serves: 9
What you need:
150 g self raising flour
1 tsp baking powder
0.5 tsp cinnamon, plus extra for dusting
1 egg, lightly beaten
35 g caster sugar
100 mls semi-skimmed milk
50 g butter, melted
100 g dried cranberries
1 medium Bramley apple
150 g Philadelphia Light
25 g icing sugar
What you do:
Pre-heat the oven to 180C, gas 4 and line a muffin tin with paper cases. Sift the dry ingredients into a large bowl. peel, core and cut the apple into approx 2cm pieces.
Mix together the egg, sugar, milk and butter. Fold in the dry ingredients, apple and cranberries. Divide mixture between the cup cases and pop into the oven for 20 - 25 minutes until golden.
Beat together the Philly and icing sugar. use to top the muffins once they have cooled slightly and dust with a little extra cinnamon.
Cook's tip:
Don't be tempted to over stir the mixture or the muffins will become heavy.
This page can be found at: http://secretsauce.co.uk/cakes-desserts/muffin-recipes/spiced-apple-and-cranberry-midnight-muffins/
A short link can also be used: http://bit.ly/SQKoLd
Philadelphia
Philadelphia is the UK's number one cream cheese which can be used for quick and easy guilt-free recipes.
More from Philadelphia

The perfect way to use up your turkey leftovers in this pasta carbonara

What a delicious, easy pasta dish. Sure to be a real family-pleaser!

Having some friends round for a gossip? These will go down a treat!
Popular in muffin recipes

When it comes to cakes, very little beats a moist, soft, light, fruity muffin and these raspberry versions are no exception

These delicious, fruity berry mini muffins are perfect for lunchbox snacks and simple enough to bake with the kids.

Sweet, delicious breakfast muffins will certainly get your morning off to a good start!