Raspberry muffins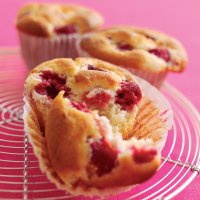 When it comes to cakes, very little beats a moist, soft, light, fruity muffin and these raspberry versions are no exception
Preparation time: 15 minutes
Cooking time: 20-25 minutes
Calories per portion: 216 Kcal
Fat per portion: 13g of which saturated 7.6g
Makes: 9 muffins
What you need:
Self-raising flour 200g (7oz)
Baking powder 1 tsp
Caster sugar 75g (3oz)
Egg 1, beaten
Milk 175ml (6fl oz)
Butter 125g (4 ½ oz), melted and cooled
Fresh raspberries 175g (6oz)
What you do:
Preheat the oven to 190°C/375°F/Gas mark 5. Line muffins tin with 9 muffin cases. Sift the self-raising flour,baking powder and caster sugar into a mixing bowl.
Whisk the beaten egg with the milk and cooled butter and stir into the dry ingredients, until just mixed (don't overmix). Then add the raspberries.
Divide the mixture between the muffin cases and bake in the oven for 20-25 minutes until risen and lightly golden. Enjoy one while still warm! Then leave the rest to cool on a wire rack.
Handy cook's tip
If you have raspberries left over from your punnet, stir them into Greek yogurt and top with runny honey for a quick and tasty pud.
Handy shopper's tip
If raspberries aren't around, these muffins are just as scrummy if you use the same weight of fresh blueberries instead.
This page can be found at: http://secretsauce.co.uk/cakes-desserts/muffin-recipes/raspberry-muffins/
A short link can also be used: http://bit.ly/faUXYQ
Skandi Candle
Pure soy wax candles in Flack Fig & Vetiver or Lemon fragrances - perfect for any dinner party or romantic night in.
Dairy Diary

The new Clever Cooking for One or Two cookbook is priced at £9.50 (plus £2P&P). To order a copy or for further information call 0845 0948 128, speak to your local milkman or visit Dairy Diary
More from Dairy Diary

This is a classic British dish that's like a giant sausage roll. Serve with greens and mustard for a traditional dinner for two

While you're getting this together, why not double up on the ingredients and freeze a lovely chicken and leek pie for another time?

This is real crowd-pleaser so double up on the ingredients and put four of these pear and cinnamon crumbles in the freezer for future use
Popular in muffin recipes

These delicious, fruity berry mini muffins are perfect for lunchbox snacks and simple enough to bake with the kids.

Sweet, delicious breakfast muffins will certainly get your morning off to a good start!

When you've got the girls coming over for a natter, put a smile on their faces with these scrummy muffins