Berry muffins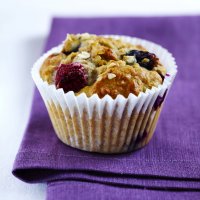 These delicious, fruity Vimto Berry Mini Muffins are perfect for lunchbox snacks and simple enough to bake with the kids.
Made with Vimto No Added Sugar Squash, a mix of three fruit juices - grapes, raspberries and blackcurrants, these healthy Mini Muffins are butter-free and made with honey. You can substitute the fresh fruit for dried fruit - just add an extra 2 tbsp of Vimto to the mixture for extra moisture.
Nutritional information per muffin: kCals 146, Fat 7.2g, Sat fat 1g, Carbs 18.5g, Sugars 3.4g
Cooking: 18 mins
Serves: 12
What you need:
200g self-raising flour
50g porridge oats
150g mixed raspberries and blueberries (fresh or frozen)
5tbsp Vimto No Added Sugar Squash.
2 medium eggs
100g of runny honey
1 heaped teaspoon of bicarbonate of soda
5tbsp sunflower oil
What you do:
Heat oven to Gas Mark 5/190C. Line a 12 hole muffin tin with paper cases.
In a large bowl, mix together flour, bicarbonate of soda and oats.
In a jug, whisk together Vimto, eggs, honey and oil. Pour into the bowl, add the berries and gently stir to combine- do not over mix.
Spoon into the cases and bake for 18-20 mins until golden and risen.
Remove from the oven, cool in the tin for 5 mins, then transfer to a wire cooling rack to cool completely.
This page can be found at: http://secretsauce.co.uk/cakes-desserts/muffin-recipes/berry-muffins/
A short link can also be used: http://bit.ly/NLhGM7
Skandi Candle
Pure soy wax candles in Flack Fig & Vetiver or Lemon fragrances - perfect for any dinner party or romantic night in.
Vimto

Vimto is a mix of three fruit juices - grape, blackcurrant and raspberry - along with a blend of 23 fruit essences, herbs and spices, made using a top-secret recipe containing only the very best ingredients and no artificial colours. As well as the famous three-fruit favourite, Vimto's No Added Sugar Squash range comes in two further flavours; Strawberry and Cherry, which both mix the delicious flavour of Vimto with the berry good taste of strawberry or cherry; each containing at least 10% fruit juice. Vimto is sold in 64 countries worldwide and the brand is worth £58.6m. It makes a range of dilutes, carbonated drinks and ready to drinks and 20% of households across the UK have bought Vimto in the last year.
More from Vimto

Want a quick, fruity and refreshing dessert idea that's so simple the kids can do it? This ripple ice cream takes minutes to prepare and is a great sweet treat to enjoy in the afternoon or after dinner.
Popular in muffin recipes

When it comes to cakes, very little beats a moist, soft, light, fruity muffin and these raspberry versions are no exception

Sweet, delicious breakfast muffins will certainly get your morning off to a good start!

When you've got the girls coming over for a natter, put a smile on their faces with these scrummy muffins