Breakfast muffins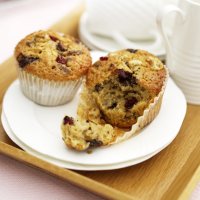 Sweet, delicious breakfast muffins will certainly get your morning off to a good start!
Preparation: 10 mins
Cooking: 25 mins
Serves: 6
What you need:
120g unsalted butter
120g light brown soft sugar
2tbsp milk
50g self-raising flour
50g pecans, roughly chopped
50g sweetened dried cranberries
2 medium eggs, beaten
1/2 tsp vanilla extract (optional)
100g Jordans Chocolate Country Crisp
What you do:
Preheat oven to 180°c/160°c fan/Gas Mark 4. Line a muffin tin with 6 muffin cases.
In a small pan, melt butter and sugar over a medium heat until the sugar is no longer grainy. Add the milk and leave to cool for 15 mins before whisking in the eggs and vanilla, if using. Mix together the flour, pecans and cranberries in a large bowl, and then pour in the cooled butter mixture. Beat until smooth before folding through the Jordans Chocolate Country Crisp.
Using two dessert spoons, fill the muffin cases about 3/4 full with the batter. Bake for 25-30 mins until the muffins are springy to the touch. Remove from the oven. Leave to cool for 10 mins in the tin, before transferring to a wire rack.
This page can be found at: http://secretsauce.co.uk/cakes-desserts/muffin-recipes/breakfast-muffins/
A short link can also be used: http://bit.ly/hda8Sr
Skandi Candle
Pure soy wax candles in Flack Fig & Vetiver or Lemon fragrances - perfect for any dinner party or romantic night in.
Jordans Cereals

The reason
Jordans Cereals
and bars are so good is thanks to the quality of the ingredients - only the finest wholegrain oats are blended with the crispiest toasted wheat flakes, the juiciest fruits and the crunchiest nuts. But it's not just about the taste. The dedicated group of Conservation Grade farmers around Britain are passionate about growing ingredients which also help wildlife to flourish. It's called all-round goodness.
More from Jordans Cereals

A slice of cake for breakfast might strike you as a bit decadent, but as it's got muesli in it, it counts as a breakfast dish!

A deliciously moist and fruity crumble cake that's perfect to eat at any time of the day.

This is a perfect winter warmer of a recipe. The soft fruit is covered in a crumble topping, served with silky soft cinnamon cream.
Popular in muffin recipes

When it comes to cakes, very little beats a moist, soft, light, fruity muffin and these raspberry versions are no exception

These delicious, fruity berry mini muffins are perfect for lunchbox snacks and simple enough to bake with the kids.

When you've got the girls coming over for a natter, put a smile on their faces with these scrummy muffins