Philly cheesecake brownies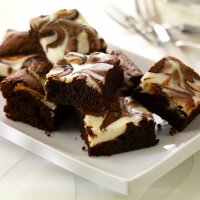 Having some friends round for a gossip? These will go down a treat!
Preparation: 10 mins
Cooking: 40 mins
Serves: 12
What you need:
125 g butter
125 g dark chocolate, chopped
200 g brown sugar
3 eggs, lightly beaten
50 g plain flour, sifted
50 g cocoa powder
0.25 tsp baking powder
200 g Philadelphia Light
50 g caster sugar
What you do:
Combine butter, chocolate and brown sugar in a medium saucepan and stir over medium heat until chocolate and butter have melted. Remove from heat and whisk in eggs.
Add flour, cocoa, and baking powder and stir until well combined. Pour into a greased and lined 18cm x 28cm rectangular tin.
Beat Philly and caster sugar until smooth and creamy. Spoon randomly over chocolate mixture and swirl with the tip of a knife. Bake at 180°C, 350°F, Gas Mark 4 for 35 - 40 minutes or until cooked through. Allow to cool before slicing.
Cook's tip:
Balance your food choices so you and your family and friends can enjoy these indulgent brownies as an occasional treat.
This page can be found at: http://secretsauce.co.uk/cakes-desserts/brownie-recipes/philly-cheesecake-brownies/
A short link can also be used: http://bit.ly/Zan3ob
Philadelphia
Philadelphia is the UK's number one cream cheese which can be used for quick and easy guilt-free recipes.
More from Philadelphia

The perfect way to use up your turkey leftovers in this pasta carbonara

What a delicious, easy pasta dish. Sure to be a real family-pleaser!

Delicious mini cheesecake bites created exclusively by Jennifer Saunders for the perfect dinner party
Popular in brownie recipes

An indulgent yet guilt-free dessert

Take just 10 minutes out of your day to do a bit of prep and then 30 minutes later sit down with a cuppa and a delicious chocolate and cranberry brownie. Yum!

What better combination? We know you'll love these rich, squidgy squares.