Greek-style yogurt ice cream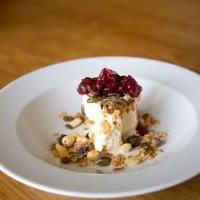 Made in an ice cream maker, this delicious dessert is great served with a topping or sauce of your choice so all the family can customise their pudding
What you need:
225ml full fat milk
5 eggs, separated
80g caster sugar
500g pot Tims Dairy Greek Style Natural Yogurt
What you do:
Put the milk into a heavy based saucepan and slowly bring to simmering point. Place the egg yolks and sugar in a good sized bowl and whisk for 2-3 minutes. Pour the milk into the egg mixture, whisking constantly to prevent it from curdling. Place the bowl over simmering water, stirring constantly with a plastic spoon, until it thickens enough to coat the back of the spoon. Remove from the heat and stir in the yogurt.
Cool down quickly in an ice bath and leave overnight in the fridge. The following day churn the mixture in an ice-cream machine.
Cook's tip:
'I like eating it with left-over ingredients like crunchy cereal and fruit compote,' says Theodore Kyriakou.
This page can be found at: http://secretsauce.co.uk/cakes-desserts/ice-cream-recipes/greek-style-yogurt-ice-cream/
A short link can also be used: http://bit.ly/VLdMaO
Tims Dairy

Chilterns based family business Tims Dairy has made great tasting yogurts for over 60 years. Tims Dairy's range of yogurts, including Greek Style yogurts, all support UK farmers as they are made with fresh British milk and cream to create delicious yogurts which are free from artificial colours and flavours. Suitable for vegetarians and vegans, Tims Dairy yogurts are bio live, gluten free and GM free. The Tims Dairy yogurt range, www.timsdairy.co.uk, is available from selected branches of Asda, Budgens, Waitrose, Whole Foods Market and independent retail outlets, farm shops and delicatessens. They are also available online at Ocado.
More from Tims Dairy

A fantastic flavour pairing by top London chef Theodore Kyriakou who says: 'I like eating the salmon pink in the middle with some rice pilaf.'

A refreshing salad with a creamy sauce which is perfect for lunch or dinner. Why not try it for your next barbecue too?

Try this recipe by Theodore Kyriakou for breakfast - it also makes a great brunch or lunch dish and a delicious light supper.
Popular in ice cream recipes

Making delicious homemade ice-cream doesn't have to be difficult thanks to this easy strawberry ice-cream

Both adults and kids will love this delicious Cranberry Ice Cream!

Want a quick, fruity and refreshing dessert idea that's so simple the kids can do it? This ripple ice cream takes minutes to prepare and is a great sweet treat to enjoy in the afternoon or after dinner.