Strawberry easy ice-cream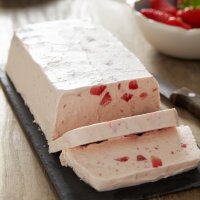 Making delicious homemade ice-cream doesn't have to be difficult thanks to this easy strawberry ice-cream that takes just 20 minutes to prepare and involves no whisking mid-freeze.
Preparation: 20 mins
Serves: 6-8
What you need:
500ml good quality custard
400ml double cream lightly whipped
1 vanilla pod, split
500g Viva strawberries
4tbsp caster sugar
What you do:
In a bowl, fold together the custard, the whipped cream and the vanilla seeds scrapped from the pod. Take 400g of strawberries, and blitz together with the sugar. Stir into the custard mix. Chop the rest of the strawberries, and add to the mix, folding through.
Line a 1 litre loaf tin with cling film and pour the mixture in. Freeze for a minimum of four hours. When ready to serve, take out of the freezer 10 minutes before you want to eat, and serve with some more fresh strawberries and a sprig of mint.
This page can be found at: http://secretsauce.co.uk/cakes-desserts/ice-cream-recipes/strawberry-easy-ice-cream/
A short link can also be used: http://bit.ly/1fDNtZa
Skandi Candle
Pure soy wax candles in Flack Fig & Vetiver or Lemon fragrances - perfect for any dinner party or romantic night in.
Viva Strawberry
More from Viva Strawberry

Macaroons are the perfect dessert to follow a romantic dinner - the perfect treat!

Viva strawberries and chocolate are a match made in heaven and make a delicious treat and a healthier alternative to a bar of chocolate.

These fluffy pancakes are perfect for a leisurely breakfast or tasty afternoon treat.
Popular in ice cream recipes

Both adults and kids will love this delicious Cranberry Ice Cream!

Want a quick, fruity and refreshing dessert idea that's so simple the kids can do it? This ripple ice cream takes minutes to prepare and is a great sweet treat to enjoy in the afternoon or after dinner.

Food expert Jill Brand is one of the Women's Institute's trained judges and has written several books sharing the cookery secrets of the WI. She has also appeared as a guest judge on Celebrity Masterchef.