Ripple ice cream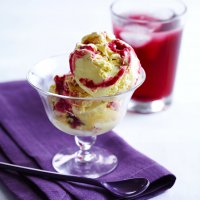 Want a quick, fruity and refreshing dessert idea that's so simple the kids can do it? This Vimto Ripple Ice Cream takes minutes to prepare and is a great sweet treat to enjoy in the afternoon or after dinner. Made with Vimto No Added Sugar Squash, a mix of three fruit juices - grapes, raspberries and blackcurrants, Vimto Ripple Ice Cream is a great way to liven up vanilla ice cream.
Serves: 6
Nutritional information per Vimto Ripple Ice Cream: kCals 80, Fat 5.2g, Sat fat 3.3g, Carbs 19g, Sugars 15g.
What you need:
5 tbsp Vimto No Added Sugar Squash
100g raspberries
1 litre light ice cream
Cornets, optional, to serve
What you do:
Heat Vimto in a small frying pan, bring to the boil and keep it bubbling for a few minutes until it has reduced down to about 1 tbsp - this will only just cover the base of the pan. Remove from the heat, add raspberries and crush with a fork. Leave to cool completely.
Spoon the out of the tub and into a large bowl. Using a large spoon put the ice cream back into the tub, adding teaspoons of the raspberry pulp as you go, to create a ripple effect. Freeze for a few hours or until solid.
To serve, dip an ice-cream scoop or spoon into warm water, then scoop ice cream into chilled dishes or cornets and serve.
This page can be found at: http://secretsauce.co.uk/cakes-desserts/ice-cream-recipes/vimto-ripple-ice-cream/
A short link can also be used: http://bit.ly/PFxjDD
Skandi Candle
Pure soy wax candles in Flack Fig & Vetiver or Lemon fragrances - perfect for any dinner party or romantic night in.
Vimto

Vimto is a mix of three fruit juices - grape, blackcurrant and raspberry - along with a blend of 23 fruit essences, herbs and spices, made using a top-secret recipe containing only the very best ingredients and no artificial colours. As well as the famous three-fruit favourite, Vimto's No Added Sugar Squash range comes in two further flavours; Strawberry and Cherry, which both mix the delicious flavour of Vimto with the berry good taste of strawberry or cherry; each containing at least 10% fruit juice. Vimto is sold in 64 countries worldwide and the brand is worth £58.6m. It makes a range of dilutes, carbonated drinks and ready to drinks and 20% of households across the UK have bought Vimto in the last year.
More from Vimto

These delicious, fruity berry mini muffins are perfect for lunchbox snacks and simple enough to bake with the kids.
Popular in ice cream recipes

Making delicious homemade ice-cream doesn't have to be difficult thanks to this easy strawberry ice-cream

Both adults and kids will love this delicious Cranberry Ice Cream!

Food expert Jill Brand is one of the Women's Institute's trained judges and has written several books sharing the cookery secrets of the WI. She has also appeared as a guest judge on Celebrity Masterchef.