Raw beetroot salad with feta and Greek-style yogurt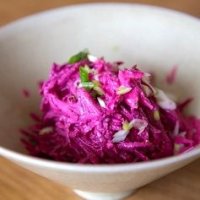 A refreshing salad with a creamy sauce which is perfect for lunch or dinner. Why not try it for your next barbecue too?
What you need:
150g Tims Dairy Greek Style Natural Yogurt
200g feta cheese, crumbled
2 spring onions, trimmed and finely diced
1/2 teaspoon of ground cumin
Sea salt and coarse black pepper
500g raw beetroot, washed & peeled
What you do:
Put the feta and yogurt in a food processor and whizz until you have a smooth sauce. Scoop out into a large bowl. Add the chopped spring onions, cumin and seasoning and mix well.
Wash the processor bowl and then fit the julienne disc or if not, the grater disc. When all the beetroot is grated, turn it into the large bowl and toss so everything is mixed well together.
Cook's tip:
'I always make this recipe in the food processor as it is much easier. The perfect accompaniment for grilled lamb chops,' says Theodore Kyriakou.
This page can be found at: http://secretsauce.co.uk/vegetarian/beetroot-recipes/raw-beetroot-salad-with-feta-and-greek-yogurt/
A short link can also be used: http://bit.ly/WyHkHf
Tims Dairy

Chilterns based family business Tims Dairy has made great tasting yogurts for over 60 years. Tims Dairy's range of yogurts, including Greek Style yogurts, all support UK farmers as they are made with fresh British milk and cream to create delicious yogurts which are free from artificial colours and flavours. Suitable for vegetarians and vegans, Tims Dairy yogurts are bio live, gluten free and GM free. The Tims Dairy yogurt range, www.timsdairy.co.uk, is available from selected branches of Asda, Budgens, Waitrose, Whole Foods Market and independent retail outlets, farm shops and delicatessens. They are also available online at Ocado.
More from Tims Dairy

A fantastic flavour pairing by top London chef Theodore Kyriakou who says: 'I like eating the salmon pink in the middle with some rice pilaf.'

Try this recipe by Theodore Kyriakou for breakfast - it also makes a great brunch or lunch dish and a delicious light supper.

A delicious dip which makes a good meze, starter or addition to a picnic or TV supper. Created by Theodore Kyriakou, this recipe is known in Greek kitchens as Koliosalata.
Popular in beetroot recipes

Wow, do these boys know how to make a tart! An unusual and tasty recipe from baking experts Tom and Henry Herbert

Bored of your usual baked potato fillings? Then try this unusual recipe with ingredients that really work together.

A great snack or light lunch with healthy beetroot and gorgeous melting brie on toast