Fried eggs with kalamata olive tapenade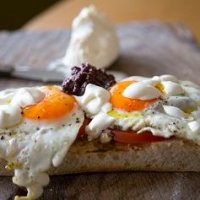 Try this recipe by Theodore Kyriakou for breakfast - it also makes a great brunch or lunch dish and a delicious light supper.
What you need:
2 eggs, preferably free-range
1 knob of butter
1 teaspoon of olive oil plus some extra
2 small tomatoes
Sea salt and freshly ground black pepper
Good sour dough bread
A small jar of good Kalamata olive tapenade
200g tub of Tims Dairy Greek Style Natural Yogurt
What you do:
In a heavy bottomed frying pan add a knob of butter and a drizzle of olive oil and gently fry 2 eggs over a medium heat, until the whites are set but the yolk is still runny.
I love sour dough bread for breakfast, so I cut two slices together with some sliced tomato. Sprinkle over a healthy splash of good olive oil and seasoning then top with the sliced tomato and fried eggs. On top of each egg add one teaspoon of the Kalamata olive tapenade and one small spoonful of Tims Dairy Greek style natural yogurt. Serve immediately while still warm.
Cook's tip:
"I love sour dough bread for breakfast so I use this type of bread but try your favourite loaf too," says Theodore Kyriakou.
This page can be found at: http://secretsauce.co.uk/vegetarian/egg-recipes/fried-eggs-with-kalamata-olive-tapenade-tomatoes/
A short link can also be used: http://bit.ly/XZfAaj
Tims Dairy

Chilterns based family business Tims Dairy has made great tasting yogurts for over 60 years. Tims Dairy's range of yogurts, including Greek Style yogurts, all support UK farmers as they are made with fresh British milk and cream to create delicious yogurts which are free from artificial colours and flavours. Suitable for vegetarians and vegans, Tims Dairy yogurts are bio live, gluten free and GM free. The Tims Dairy yogurt range, www.timsdairy.co.uk, is available from selected branches of Asda, Budgens, Waitrose, Whole Foods Market and independent retail outlets, farm shops and delicatessens. They are also available online at Ocado.
More from Tims Dairy

A fantastic flavour pairing by top London chef Theodore Kyriakou who says: 'I like eating the salmon pink in the middle with some rice pilaf.'

A refreshing salad with a creamy sauce which is perfect for lunch or dinner. Why not try it for your next barbecue too?

A delicious dip which makes a good meze, starter or addition to a picnic or TV supper. Created by Theodore Kyriakou, this recipe is known in Greek kitchens as Koliosalata.
Popular in egg recipes

Make perfect poached eggs with Martyn Nail's delicious recipe that works for breakfast or lunch

Serve for brunch, lunch or a supper with fresh crusty bread. You can also use frozen leaf spinach which is a useful vegetable to keep in the freezer for dishes like this and will be cheaper than fresh.

Created in association with TV chef Rosemary Shrager, this dish is perfect for a quick meal for one, uses only 5 ingredients and takes just 5 minutes to make