Apple, orange & raspberry nutty crumble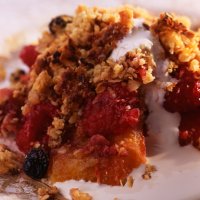 Crumbles are a real British favourite, and this one with apples, oranges and raspberries will go straight to the top of your favourite winter desserts
What you need:

For the Filling
225g/ 8oz cooking apples, peeled, cored and sliced
2 oranges, peeled and de-pithed
225g/8oz raspberries
25g / 1oz castor sugar
For the Topping
100g/ 4oz ground almonds
50g/ 2oz muesli
50g/ 2oz vegetable margarine
25g/ 1oz demerara sugar
What you do:
Preheat oven to 180°C/350°F/gas 4
To make the nutty topping, mix the ground almonds and museli together, rub in the margarine and stir in the sugar.
Layer the apples in an ovenproof dish. Cut the oranges across the grain to make circles and place on top of the apples. Top with the raspberries and sprinkle over the sugar.
Spoon the nutty topping evenly over the fruit and bake in the pre-heated oven for 40-50mins.

Recipe created by the Cordon Vert cookery school
This page can be found at: http://secretsauce.co.uk/cakes-desserts/crumble-recipes/apple-orange-raspberry-nutty-crumble/
A short link can also be used: http://bit.ly/idmQDN
Vegetarian Society

The Vegetarian Society is a registered charity committed to promoting the health, environmental and welfare benefits of a vegetarian diet.
More from Vegetarian Society

These Halloween snails look deliciously slimy. Who's going to be brave enough to take the first bite?

A fantastic ale and mushroom pie recipe perfect to warm you up when it's chilly outside and you want something tasty and filling

Need some get up and go in the morning? This smoothie is just what you need. Ready, steady...
Popular in crumble recipes

This is real crowd-pleaser so double up on the ingredients and put four of these pear and cinnamon crumbles in the freezer for future use

When it gets a bit wintry nothing beats a great crumble for dessert - it's sweet, crunchy and with a dribble of custard, perfect!

This delicious rhubarb crumble recipe was created by gardener and celebrity Kim Wilde