Pear & cinnamon crumble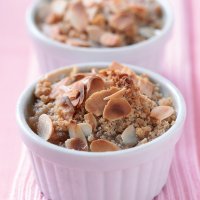 This is real crowd-pleaser so double up on the ingredients and put four of these pear and cinnamon crumbles in the freezer for future use
Preparation time: 15 minutes
Cooking time: 25 minutes
Calories per portion: 600 Kcal
Fat per portion: 35g of which saturated 14.1g
Serves: 4
Suitable for vegetarians & freezing
What you need:
Packham pears 4, peeled, cored and roughly chopped
Caster sugar 1 tbsp
For the crumble topping:
Butter 100g (3½oz)
Demerara sugar 100g (3½oz)
Ground almonds 100g (3½oz)
Plain flour 100g (3½oz)
Ground cinnamon 1 tsp
Flaked almonds 2 tbsp
What you do:
Preheat the oven to 190ºC/375ºF/Gas 5. Put the pears, sugar and 2 tablespoons of water in a medium-sized saucepan and cook gently for 5-8 minutes until the pears are softened - the exact time will depend on the ripeness of the pears. Using a slotted spoon, place the pears into four small dishes suitable for oven and freezer (ramekins are ideal for this).
Meanwhile, tip all the crumble topping ingredients, except the flaked almonds, into a food processor and press the pulse button several times until the mixture looks like fine breadcrumbs. Sprinkle the crumble over the pears and scatter with the almonds.
Bake in the oven for about 20 minutes or until the topping is golden. Serve immediately or freeze as described in cooks tips.
Handy cook's tip
To freeze, top the cool filling with the crumble and freeze for up to 1 month. Thaw in the fridge overnight and cook as below.
Handy shopper's tip
Buy pears in season and, if you can't find Packham, try Comice instead.
This page can be found at: http://secretsauce.co.uk/cakes-desserts/crumble-recipes/pear-cinnamon-crumble/
A short link can also be used: http://bit.ly/hUoSyw
Dairy Diary

The new Clever Cooking for One or Two cookbook is priced at £9.50 (plus £2P&P). To order a copy or for further information call 0845 0948 128, speak to your local milkman or visit Dairy Diary
More from Dairy Diary

This is a classic British dish that's like a giant sausage roll. Serve with greens and mustard for a traditional dinner for two

While you're getting this together, why not double up on the ingredients and freeze a lovely chicken and leek pie for another time?

When it comes to cakes, very little beats a moist, soft, light, fruity muffin and these raspberry versions are no exception
Popular in crumble recipes

When it gets a bit wintry nothing beats a great crumble for dessert - it's sweet, crunchy and with a dribble of custard, perfect!

This delicious rhubarb crumble recipe was created by gardener and celebrity Kim Wilde

This is a perfect winter warmer of a recipe. The soft fruit is covered in a crumble topping, served with silky soft cinnamon cream.