Apple & pear crumble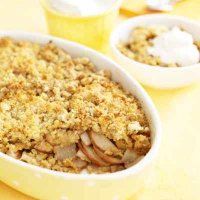 This is a perfect winter warmer of a recipe. The soft fruit is covered in a crumble topping made from Jordans Honey Country Crisp and honey, served with silky soft cinnamon cream.
Preparation: 20 mins
Cooking: 40 mins
Serves: 6
What you need:
125g butter
4 eating apples, thinly sliced
2 pears, thinly sliced
100g honey
80g light brown soft sugar
1/2 tsp vanilla extract
150g plain flour
100g Jordans Honey Country Crisp
1tsp ground cinnamon
200ml double cream
Honey, to serve
What you do:
Preheat the oven to 180 C/ fan 170 F/ Mk 4. Butter a 1 litre ovenproof baking dish with 25g of the butter.
Toss the apples and pears in the honey, 30g of the sugar, and the vanilla extract. Spoon into the baking dish and bake for 10 minutes.
Meanwhile, rub together the remaining butter with the flour. Stir in the remaining sugar, and the Jordans Honey Country Crisp. Spoon this over the apples and pears in the dish, and bake for a further 30 minutes.
To serve, whip the cream until thick, and stir in the cinnamon. Sweeten with extra honey if desired. Serve the crumble warm with the cream on the side.
This page can be found at: http://secretsauce.co.uk/cakes-desserts/crumble-recipes/apple-and-pear-crumble/
A short link can also be used: http://bit.ly/rUHUKL
Jordans Cereals

The reason
Jordans Cereals
and bars are so good is thanks to the quality of the ingredients - only the finest wholegrain oats are blended with the crispiest toasted wheat flakes, the juiciest fruits and the crunchiest nuts. But it's not just about the taste. The dedicated group of Conservation Grade farmers around Britain are passionate about growing ingredients which also help wildlife to flourish. It's called all-round goodness.
More from Jordans Cereals

Sweet, delicious breakfast muffins will certainly get your morning off to a good start!

A slice of cake for breakfast might strike you as a bit decadent, but as it's got muesli in it, it counts as a breakfast dish!

A deliciously moist and fruity crumble cake that's perfect to eat at any time of the day.
Popular in crumble recipes

This is real crowd-pleaser so double up on the ingredients and put four of these pear and cinnamon crumbles in the freezer for future use

When it gets a bit wintry nothing beats a great crumble for dessert - it's sweet, crunchy and with a dribble of custard, perfect!

This delicious rhubarb crumble recipe was created by gardener and celebrity Kim Wilde