Philly mango cheesecake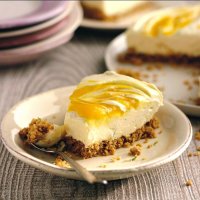 A delicious treat for dessert or just with a cup of tea
Preparation: 30 mins
Serves: 10
What you need:
150 g oaty biscuits, crushed
40 g butter, melted
425 g can mango slices in light syrup
finely grated zest and juice of 1 lime
275 g white chocolate, broken into pieces
300 g Philadelphia Original
150 ml double cream, lightly whipped
What you do:
Stir the biscuit crumbs into the melted butter until coated and press into the base of a 19-20 cm loose bottomed cake tin or spring form tin.
Drain the mango slices from their syrup and puree the fruit in a liquidiser or food processor with the lime zest and juice.
Melt the chocolate by placing it in a basin over gently simmering hot water.
Whisk the Philly until soft then whisk in the cream and chocolate. Fold about half the mango puree into the Philly cream and spoon over the prepared base.
Swirl the remaining mango puree on to the surface of the cheesecake to give an attractive pattern.
Chill for at least three hours before serving to allow the cheesecake to set.
This page can be found at: http://secretsauce.co.uk/cakes-desserts/cheesecake-recipes/philly-mango-cheesecake/
A short link can also be used: http://bit.ly/104YyPq
Philadelphia
Philadelphia is the UK's number one cream cheese which can be used for quick and easy guilt-free recipes.
More from Philadelphia

The perfect way to use up your turkey leftovers in this pasta carbonara

What a delicious, easy pasta dish. Sure to be a real family-pleaser!

Having some friends round for a gossip? These will go down a treat!
Popular in cheesecake recipes

This strawberry cheesecake makes your mouth water just at the sight of it - so it's not too much of a stretch to imagine how much your tastebuds will like this too!

A delicious minty cheesecake perfect for a dinner party or a tasty treat!

These no-bake cheesecakes are made even easier because the melted white chocolate provides all the sweetness for the cream cheese so no need for extra sugar.