Mini cheesecakes with French glace cherry conserve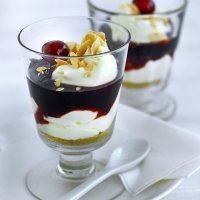 These no-bake cheesecakes are made even easier because the melted white chocolate provides all the sweetness for the cream cheese so no need for extra sugar.
What you need:
100g digestive biscuits
2 tbsp butter, melted
200g cream cheese
200g white chocolate, chopped
175ml double cream
French glace cherry conserve:
250ml red cherry juice
150g caster sugar
90g French glace cherries halved or roughly chopped
To decorate: 2 tbsps toasted flaked almonds, chopped and 6-8 French glace cherry
What you do:
In a saucepan add the cherry juice, sugar and French glace cherries. Bring to a boil and then simmer, for about 10 minutes, until syrupy. Remove from heat and let cool completely.
Melt the white chocolate in a glass bowl suspended over a saucepan of boiling water. Don't let the water touch the bottom of the bowl. Stir continuously until melted. Alternatively, you can melt the chocolate in a bowl it in the microwave in 30 second intervals, stirring each time.
Finely crush the biscuits in a food processor and add the melted butter. Divide the mixture between 6-8 glasses. Press down with the bottom of another flat-bottomed glass. Chill while you make the cheesecake mixture.
In a mixing bowl, beat the cream cheese until soft. In a separate bowl, whip the cream until soft peaks form. Add the white chocolate to the cream cheese and then mix well. Gently fold the whipped cream into the other mixture and mix again.
Divide into 6-8 glasses and layer the French glace cherry conserve in between the cream cheese filling. Top with another French glace cherry and some toasted almond flakes. Refrigerate for at least one hour before serving.
Cook's tip:
Lightly toast the almonds for a wonderful nutty flavour and serve in glasses or tumblers.
This page can be found at: http://secretsauce.co.uk/cakes-desserts/cheesecake-recipes/mini-cheesecakes-with-french-glace-cherry-conserve/
A short link can also be used: http://bit.ly/13hSz73
Skandi Candle
Pure soy wax candles in Flack Fig & Vetiver or Lemon fragrances - perfect for any dinner party or romantic night in.
French Glace Cherries

French Glacé Cherries retain their flavour, shape and texture throughout the baking process. As such, they offer unbeatable quality, and reliable results every time. So don't just use them in a traditional fruit cake, why not try them in other sweet (or savoury) dishes?
More from French Glace Cherries

Home made fruity ice lollies made with glace cherries, peaches and cherry juice.

Healthy nutty snacks, perfect for a mid-morning snack or in a lunch box.

An alternative to Black Forest Gateau - a chocolate cake with glace cherry filling and smooth chocolate ganache top.
Popular in cheesecake recipes

This strawberry cheesecake makes your mouth water just at the sight of it - so it's not too much of a stretch to imagine how much your tastebuds will like this too!

A delicious minty cheesecake perfect for a dinner party or a tasty treat!

This quick-setting light textured cheesecake is the perfect answer to an alternative to the richness of Christmas pudding...