Strawberry creme fraiche cheesecake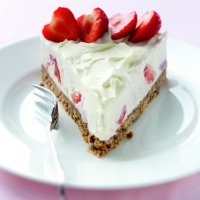 This strawberry cheesecake makes your mouth water just at the sight of it - so it's not too much of a stretch to imagine how much your tastebuds will like this too!
Serves: 8
Preparation time: 15 mins (plus chilling time)
What you need:
200g chocolate digestive biscuits
50g Country Life butter, melted
300g cream cheese
400g Crème Fraîche
1 tsp vanilla extract
25g caster sugar
300g strawberries
What you do:
Coarsely crush the biscuits in a food processor and add the butter until well blended. Spoon into the base of a 20cm round, loose-bottomed cake tin, pressing down well. Allow to chill.
Meanwhile, whisk the cream cheese and 250g Crème Fraîche until thick and smooth then whisk in the vanilla and sugar. Roughly chop half the strawberries and stir in. Spoon over the biscuit base and chill well.
Spread over the remaining Crème Fraîche. Slice the remaining strawberries and arrange on top. Serve chilled.
This page can be found at: http://secretsauce.co.uk/cakes-desserts/cheesecake-recipes/strawberry-creme-fraiche-cheesecake/
A short link can also be used: http://bit.ly/hHVbTy
Skandi Candle
Pure soy wax candles in Flack Fig & Vetiver or Lemon fragrances - perfect for any dinner party or romantic night in.
Dairy Crest

Dairy foods including milk, butter and cheese are a valuable and versatile part of a healthy balanced diet and can all be delivered to your door by your Dairy Crest milkman, without you even needing to leave home.
More from Dairy Crest

For a quick and easy evening meal, chicken, leek and Cheddar bake, with melt in the mouth cheese, will be a firm family favourite that takes just 10 minutes to prepare

A juicy, tender steak with a traditional peppercorn sauce and an added chilli kick, ready in just 10 minutes

This is a really healthy, good for you breakfast that tastes delicious too with fruit mixed berries and sweet strawberry yoghurt
Popular in cheesecake recipes

A delicious minty cheesecake perfect for a dinner party or a tasty treat!

These no-bake cheesecakes are made even easier because the melted white chocolate provides all the sweetness for the cream cheese so no need for extra sugar.

This quick-setting light textured cheesecake is the perfect answer to an alternative to the richness of Christmas pudding...