Jennifer Saunders' mini cheesecake bites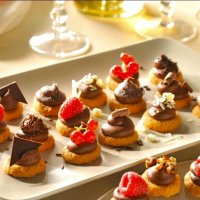 Delicious mini cheesecake bites created exclusively by Jennifer Saunders for the perfect dinner party
Preparation: 15 mins
Serves: 28
What you need:
160g Light Philadelphia with Cadbury
100g mini chocolate chip cookies or mini oat biscuits
What you do:
Arrange the biscuits on a serving platter.
Spread or pipe a little Philly with Cadbury on to each biscuit and serve topped with a number of different toppings.
This page can be found at: http://secretsauce.co.uk/cakes-desserts/cheesecake-recipes/jennifer-saunders-mini-cheesecake-bites/
A short link can also be used: http://bit.ly/SLavTT
Philadelphia
Philadelphia is the UK's number one cream cheese which can be used for quick and easy guilt-free recipes.
More from Philadelphia

The perfect way to use up your turkey leftovers in this pasta carbonara

What a delicious, easy pasta dish. Sure to be a real family-pleaser!

Having some friends round for a gossip? These will go down a treat!
Popular in cheesecake recipes

This strawberry cheesecake makes your mouth water just at the sight of it - so it's not too much of a stretch to imagine how much your tastebuds will like this too!

A delicious minty cheesecake perfect for a dinner party or a tasty treat!

These no-bake cheesecakes are made even easier because the melted white chocolate provides all the sweetness for the cream cheese so no need for extra sugar.