Strawberry cream Victoria sponge cake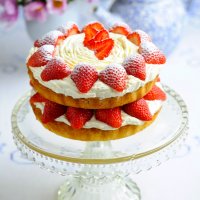 Named after Queen Victoria herself, there are few cakes that can beat this all-time classic recipe. You can spread strawberry jam (turning it into a jam sponge) or whipped vanilla cream on the base of one sponge cake as a filling, or both.
Preparation: 20 mins
Cooking: 20 mins
Serves: 4
What you need:
175g butter, soft
175g caster sugar
3 fresh eggs
175g self-raising flour
250ml double cream
1 tsp vanilla bean paste, or vanilla extract
1 tbsp icing sugar and extra for sifting
400g Sweet Eve Strawberries
4 tbsp strawberry jam (optional)
What you do:
Pre-heat the oven to 180°C. Butter and line two 18 cm sandwich tins with baking parchment.
Beat the butter and the sugar till pale and fluffy. Add the eggs, one at a time, beating well. Fold in the flour, one spoon at a time.
Divide the mixture evenly between the tins and level with a knife. Bake in the oven for 20 minutes until the sponge cakes are well risen, golden brown and firm to the touch.
Cool the sponge cakes on a wire rack. Hull the strawberries and slice them in half. Whip the cream till quite stiff, mix in the icing sugar and the vanilla.
When the cakes are cool, spread the jam on one of the sponge cakes (if using) and spread half of the whipped cream on top. Place half of the strawberries on top of the cream. Place the other sponge cake on top and spread with the remaining whipped cream.
Arrange the remaining strawberries in a spiral round the cake.
This page can be found at: http://secretsauce.co.uk/cakes-desserts/cake-recipes/strawberry-cream-victoria-sponge-cake/
A short link can also be used: http://bit.ly/PbsNeM
Sweet Eve Strawberries

Sweet, juicy and plump, British strawberries are undeniably the taste of a good summer. Sweet Eve is a new variety of British strawberry. Packed with sweetness and flavour Sweet Eve is in season from June until October and it tastes like strawberries used to taste.
More from Sweet Eve Strawberries

Sophie says: 'I love making this as a celebration cake for special occasion - the layers of meringue with the fruit in between look very pretty.'

When it gets a bit wintry nothing beats a great crumble for dessert - it's sweet, crunchy and with a dribble of custard, perfect!

Strawberries, cream and a dash of cinnamon - the perfect pudding combination.
Popular in cake recipes

This recipe just makes my mouth water! Smooth, sweet buttercream with tempting, moist chocolate cake. Don't try and resist!

Classic lemon drizzle cake with a twist! The elderflower cordial adds an extra sweet flavour to this delicious cake. Try it and see!

For a surprising treat, the tomato ketchup cake is sure to tantalise your tastebuds!