Strawberry, ricotta, lemon & cream tart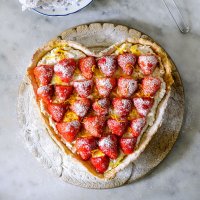 Preparation: 30 mins
Cooking: 25 mins
Serves: 6

What you need:

For the pastry

100g cold butter
175g plain flour
1 tbsp caster sugar
1 egg
A little cold water

For filling the tart

200ml double cream
250g tub of ricotta
Zest of a lemon
1 - 2 tbps ground cinnamon (depending on your taste)
250g Sweet Eve strawberries

What you do:
Rub the cold butter into the sifted flour till it resembles fine breadcrumbs. Mix in the sugar and the egg, adding just enough cold water to create a dough, but no more.
Roll the pastry and use it to line a 20 cm tart tin which has been greased with a little extra butter. Prick the base of the tart with a fork. Place the tart tin in the fridge for 30 minutes.
In a roomy bowl whisk the fresh cream till it forms soft peaks. Add the ricotta, lemon zest and cinnamon and mix well.
Pre-heat the oven to 180°C. Bake the pastry tart case for 20-25 minutes, till crisp and golden. Cool on a wire rack.
When you are ready to serve the tart, spoon the ricotta and cream mixture evenly across the tart base. Decorate the top of the tart with Sweet Eve strawberries.
This page can be found at: http://secretsauce.co.uk/cakes-desserts/tart-recipes/strawberry-ricotta-lemon-and-cream-tart/
A short link can also be used: http://bit.ly/1aERChC
Sweet Eve Strawberries

Sweet, juicy and plump, British strawberries are undeniably the taste of a good summer. Sweet Eve is a new variety of British strawberry. Packed with sweetness and flavour Sweet Eve is in season from June until October and it tastes like strawberries used to taste.
More from Sweet Eve Strawberries

Sophie says: 'I love making this as a celebration cake for special occasion - the layers of meringue with the fruit in between look very pretty.'

When it gets a bit wintry nothing beats a great crumble for dessert - it's sweet, crunchy and with a dribble of custard, perfect!

Named after Queen Victoria herself, there are few cakes that can beat this all-time classic recipe.
Popular in tart recipes

A modern take on an old favourite - this no-pastry tart is scrummily sticky with lots of lemon taste to balance its sweetness

Celebrity chef Marcus Wareing's fantastic recipe for baked egg custard tart serves 8, but be prepared for it to only serve 4 because everyone will want a double helping!

Make the most of summer berries in this spectacular tart and if it's the wrong season for berries, use rhubarb instead