Sophie Michell's hazelnut meringue layer cake with strawberries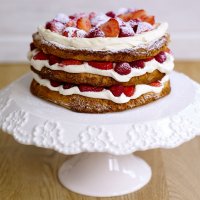 Sophie says: 'I love making this as a celebration cake for special occasions. The layers of meringue with the fruit in between look very pretty and it's super easy to make ahead and assemble last minute.'
Preparation: 20 mins
Cooking: 30 mins
Serves: 12
What you need:
250g whole hazelnuts
8 egg whites
300g caster sugar
200ml double cream
200g Sweet Eve strawberries, hulled and sliced in half
100g BerryJewel raspberries
Icing sugar to decorate
What you do:
Preheat the oven to 180°C/160°C fan/Gas mark 4.
Blitz the hazelnuts in a blender until very fine.
Take a clean, grease-free bowl and add the egg whites. Whisk the egg whites until they form soft peaks. Gradually add the caster sugar spoon by spoon, whisk well in between. Continue until all the sugar has been added and the mixture is thick and glossy, then fold in the hazelnuts.
Divide the mix between three greased and lined Victoria sandwich tins and then bake it in the preheated oven for about 25-30 minutes, until golden.
When done, take out of the oven, cool in the tins and then carefully remove.
Whip the cream until it forms soft peaks and spread a third of the mixture onto one of the meringues. Add a layer of Sweet Eve strawberries and BerryJewel raspberries, and then top with the second meringue. Repeat the process with the second and third meringue topping the final meringue with the remaining cream and Sweet Eve strawberries until you end up with a top layer of Sweet Eve strawberries.
To finish, sprinkle with icing sugar!
Please credit: www.sweetevestrawberry.co.uk
Cook's tip:
Run a knife around the outside of the cake tins to release the meringues and upturn them to get them out of the tin. Carefully peel off the lining paper.
This page can be found at: http://secretsauce.co.uk/cakes-desserts/cake-recipes/sophie-michells-hazelnut-meringue-layer-cake-with/
A short link can also be used: http://bit.ly/1hGmUTw
Skandi Candle
Pure soy wax candles in Flack Fig & Vetiver or Lemon fragrances - perfect for any dinner party or romantic night in.
Sweet Eve Strawberries

Sweet, juicy and plump, British strawberries are undeniably the taste of a good summer. Sweet Eve is a new variety of British strawberry. Packed with sweetness and flavour Sweet Eve is in season from June until October and it tastes like strawberries used to taste.
More from Sweet Eve Strawberries

When it gets a bit wintry nothing beats a great crumble for dessert - it's sweet, crunchy and with a dribble of custard, perfect!

Strawberries, cream and a dash of cinnamon - the perfect pudding combination.

Named after Queen Victoria herself, there are few cakes that can beat this all-time classic recipe.
Popular in cake recipes

This recipe just makes my mouth water! Smooth, sweet buttercream with tempting, moist chocolate cake. Don't try and resist!

Classic lemon drizzle cake with a twist! The elderflower cordial adds an extra sweet flavour to this delicious cake. Try it and see!

For a surprising treat, the tomato ketchup cake is sure to tantalise your tastebuds!